Wondering how to start a reseller hosting business?
Reseller hosting came into popularity back before the boom of inexpensive virtual servers and remains an integral part of today's web hosting company landscape.
Where web hosting is server space purchased directly from a datacenter provider, reseller hosting is a portion of a server, or sometimes even an entire virtual or dedicated server, leased from someone who purchases space at a data center directly."
Reseller Hosting generally provides an end-user with a hosting control panel like cPanel or SiteWorx compared to a server control panel like WHM or NodeWorx.
This allows you, the reseller, to safely and securely control server-level services while giving individual customers the tools and freedom to operate independently.
Why Should You Become a Hosting Reseller?
To some shoppers, using a middle man does not make much sense; costs could be much lower when buying directly from the provider. However, for others, the provider's offerings may not mesh with their needs. Perhaps VPS Hosting or a Dedicated Server is far too much space or too complicated to manage. The cost of a full server could be very high compared to leasing just a portion of a server.
Other customers are looking for a one-stop-shop. They want a single company that can manage everything about their online presence, from web design and SEO to hosting and site support.
Reseller Use Cases
This is where you come in! You may have a niche in your market; let's say you are the expert in restaurant landing pages. You have contacts in the market for leads, the right combination of tools and resources for intuitive and popular pages, and an excellent turnaround time. The only thing that your customers are missing is a place to put their website when you are done.
Stepping up to reseller hosting for your business would secure ongoing revenue with your clients and could help you complete your sales even faster.
Of course, this is just one example. Here are some additional use cases:
SEO Professional
A Search Engine Optimization pro helps businesses get noticed online. It's easy to help your customers' site speed, search crawler metadata, DNS records, and plugins when their site is hosted on your server.
Theme Developer
A Magento or WordPress theme guru designs killer templates and responsive pages. You can ensure that your code will run smoothly by carefully controlling the environment and versions in which your customers host.
Website Administrator
A contract administrator for nonprofits may help lots of different clients do the same sort of things: post meeting minutes, update board information, and advertise upcoming events. A central location where all of this occurs for all your customers can really speed up your workflow and help you administer website updates quickly.
The different types of value that your business can add to reseller hosting are almost limitless, as are the types of value that reseller hosting can bring to your business!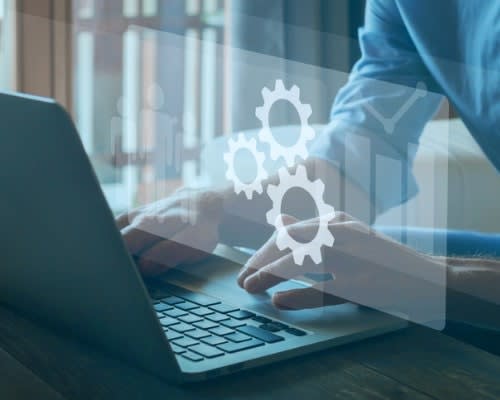 How to Start a Reseller Hosting Business in Six Steps
What steps do you need to take to begin reselling? Let's start from scratch and walk through the steps of how to start a reseller hosting business.
1. Create a Business Plan
Your business should start with a business plan. This plan will include all of the information you need to guide your growth, like your company organization, the services you plan to offer, and the problems your business plans to solve. Once you have a plan, create a company if you haven't already (like an LLC or a GmbH), and perform your work through the company.
2. Select Your Host, Server, and Software
This is a critical choice for your ongoing costs. A solid hosting provider will support you in your reselling endeavor and provide stable and secure servers for your customers. A simple to use control panel will allow you to spend more time on your customers and less time on the ins and outs of server management. Be sure to select a server you can easily upgrade, like a Cloud Dedicated Server, to extend your resources when you run low.
Liquid Web recommends using a combination of WHMCS and InterWorx as an inexpensive and comprehensive reseller hosting system.
WHMCS has all of the tools you need to sell hosting
and support customers, including ticketing, payment processing, and impressive automation, while
InterWorx scales well with your business
with a flat license fee and full hosting feature set.
3. Consider Support
As a host, you will be responsible for answering support questions about the new hosting services you will provide. This falls into two categories: self-help and technical support.
Self-help provides your clients pre-made answers to common questions or problems through a system they can access without your involvement. Examples of self-help tools might be a knowledge base or FAQ section on your website about setting up a mail client or connecting to the server via FTP. WHMCS already has a Knowledge Base tool that you can integrate with your client portal.
Technical support is active involvement with a client through live chat, a ticketing system, or a phone call to solve an issue, answer questions, or change services. But, if there are problems that you cannot solve yourself, make sure that your server provider can support you where your expertise ends.
Consider contracting a third party "white label" support team as the first line of defense
to help with customer tickets if your free time is thin. Extending your support hours this way is a big win for your clients, who can have issues in the evenings or on weekends. WHMCS has an email-based ticketing solution built-in, and different levels of access for support administrators!
4. Create Packages
Packages are the levels of hosting and combinations of features that you provide to your clients. You might decide to center your hosting packages around your core service and include hosting as an add-on, or you might choose to create levels of hosting with your valuable services included in certain packages.
What other services should be added to your hosting plans? There are some features that shoppers would consider 'standard,' and don't add a lot (or sometimes anything) to your costs. These include SSL certificates, FTP access, remote backups, domain name registration, and one-click CMS installers.
Perform market research, and calculate your overhead costs for advertising, hosting, support, storage, and your own services when deciding on package pricing.
WHMCS has integrations for SSL certificate and domain name ordering so that your clients can add these options to their packages as they need them. InterWorx also supports free Let's Encrypt SSL certificates for live domains!
5. Set Up Your Server and Services
Now that you have your framework, you can start setting up the server and services. You will procure your server, install InterWorx and WHMCS, add your packages and connect payment processors (like PayPal or authorize.net), link WHMCS to the server control panel for automation, populate your KB with technical support answers, and much more. Check out this list of additional considerations for configuring WHMCS.
Liquid Web's free reseller hosting program provides you with a free WHMCS license,
and they help you get all of the software installed, so you can skip the technical portions and get right to the package setup. You also get scaling
discounts
on products resold to your clients.
6. Start Selling!
Now that the server is ready to resell, you can start marketing your business. Inquire with your new and existing customers about their hosting needs, and make sure to tout the value of your offerings.
If it makes sense for your customers, consider adding a Private VPS Parent to your business model so that customers who do need an entire server can also easily create these automatically from your online store.
WHMCS integrates with Liquid Web Cloud Private Parents for VPS creation.
WHMCS and InterWorx Integration and Automation
If you need to set up WHMCS yourself, check out the most up-to-date information on adding InterWorx servers to WHMCS at the WHMCS documentation page.
WHMCS makes controlling and selling your InterWorx servers very simple; customers purchase packages from you through your online store, and as soon as orders are received (and optionally verified manually), WHMCS sets up the user account with the appropriate package limits and emails the customer their login details so they can get started building immediately.
In order for this to happen, an API key is created in InterWorx and added to WHMCS when the server information is added. WHMCS can now control suspension for nonpayment, purchases of package upgrades, and much more. In fact, to the end-user, the ordering and control experience will be identical to any other major control panel, but at a significantly reduced licensing cost to you!
One of the great things about WHMCS is that you don't need a separate server to manage your hosting; it can be installed safely right alongside InterWorx, so start-ups in the reseller business can slim down to a single server and expand as their business grows.
Interested in getting started? Apply to our Reseller Hosting Program today!

About the Author

More Content by Andrej Walilko