Software-as-a-Service hosting is a type of web hosting that allows customers to access your software app or platform via the Internet. Similar to SaaS as a software delivery method, SaaS hosting leverages the cloud to store your app and the related files on your hosting provider's server – giving customers easy access to what they need when they need it.
Understanding what SaaS hosting is and how it relates to your offerings as a software provider could open your business up to new levels of growth. To help you take advantage of this untapped resource, Liquid Web is here to provide you with this in-depth guide to SaaS hosting.
Table of Contents:
Benefits of Partnering with SaaS Hosting Providers
As cloud technology has grown, the SaaS model has come to influence more than just software. Software providers can even purchase their hosting – the backbone of their software platform – on a SaaS basis.
SaaS hosting is rapidly replacing the traditional physical, on-site data center model. While that's one of the main benefits of this hosting structure, there are many more advantages to using a virtual data center.
Let's look at several reasons you should consider SaaS hosting below.
1. Speed
One of the main benefits of leveraging SaaS hosting for your software platform is how quickly you can reach your customers. Legacy, single-tenancy software used to require a physical boot device like a CD-ROM. Applications would take days or weeks to get into your customers' hands. Users would experience even more downtime while waiting for the software to be installed. And if the computer they wanted to use doesn't have adequate resources? Well, that was a problem that could take even longer to fix.
SaaS hosting allows you to avoid those pitfalls. When a new customer opts to use your software, your hosting provider just has to partition their virtual servers to create another instance of the software. In less than an hour, your newest user is up and running – taking advantage of all the functions and features your software has to offer.
2. Scalability
Hosting your software application on a managed private cloud affords you access to more server resources. Instead of being confined to the finite resources or hardware in a dedicated server, your SaaS hosting provider can shift more resources to your infrastructure as you grow.
As more users sign up for your software, your hosting provider can simply partition you more resources to handle the growth. Additionally, the financial investment associated with growing and reconfiguring servers is put onto your hosting provider and is no longer your internal responsibility which, in turn, lowers costs even more since less IT staff is required. The staffing resources you have could also be used for more complex, valuable IT tasks.
3. Backup and Disaster Recovery (BDR) Procedures
The biggest concern for IT professionals, in general, is the loss of important files or information. Backup instances of important files and programs are necessary, but can often take up large amounts of server resources. Leveraging the type of virtualization SaaS hosting provides helps keep your important information safe while freeing up your internal system for more important applications. At Liquid Web, customers can rely on Acronis Cyber Backups to store critical files offsite and off server.
Since you're dealing with a hosting provider responsible for all their clients' data, you can be sure they keep a robust catalog of backups in place. Naturally, you'll want to ask your provider about their standard backup procedures and make sure they align with your business goals before signing an agreement.
Secondly, SaaS hosting in the cloud will help you avoid natural disasters. Physical data centers are hard to move. If a weather event is headed toward your facility, it may be too late to protect your essential servers and files. Taking advantage of the cloud allows you to store sensitive information thousands of miles away from your physical location – keeping the data that keeps your business going out of harm's way.
4 Examples of SaaS Hosting Providers
To better understand how what SaaS hosting is exactly, and how it can further your business, it's helpful to see who some of the leading real-world SaaS hosting providers are and how they fit into the overall SaaS landscape. Here are some examples.
Nexcess StoreBuilder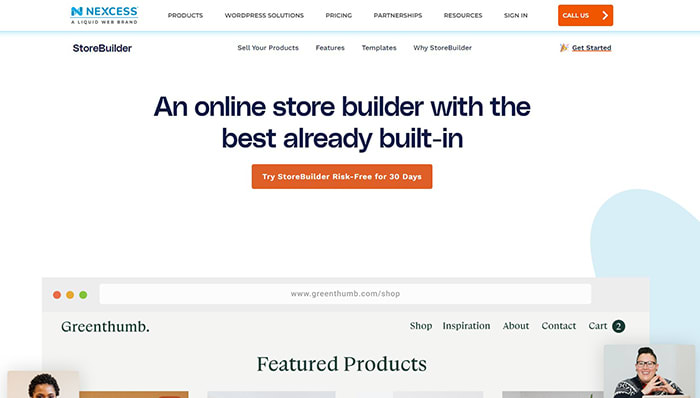 With the eCommerce industry growing as fast as it is, new business owners in the space are constantly looking for ways to get their stores up and running as quickly as possible. And for those familiar with WordPress, how do you navigate the plethora of theme and plugin options, not to mention customization?
This is exactly why Nexcess StoreBuilder, part of the Liquid Web Family of Brands, is such a popular application. Users can implement intuitive design features right into their store, rely on live expert support, and still maintain total control over their eCommerce business, all within a sleek, easy-to-use framework.
Here's a quick look at some of the pros and cons that make StoreBuilder the premier WordPress store solution.
Pros
No coding is required.
Fully custom templates.
Built-in sales monitoring.
Cons
Intake questions are required for the best experience.
May not be ideal for everyone.
Amazon Web Services (AWS): Pros and Cons

AWS is Amazon's solution for business owners who want to leverage cloud hosting and for their SaaS applications. With a large suite of individual apps, AWS has become a very popular web-based solution for businesses wanting to modernize their offerings. But small- to medium-sized businesses (SMBs) and independent software vendors (ISVs) may find it difficult to move to the cloud with major cloud service providers such as AWS.
Pros
Customizable pricing.
Sophisticated framework.
Strong security.
Cons
Very few AWS-skilled professionals.
A large number of customers leads to numerous general issues.
24/7 support can make operating costs extremely high.
No management is included as compared to a managed private cloud.
DigitalOcean: Pros and Cons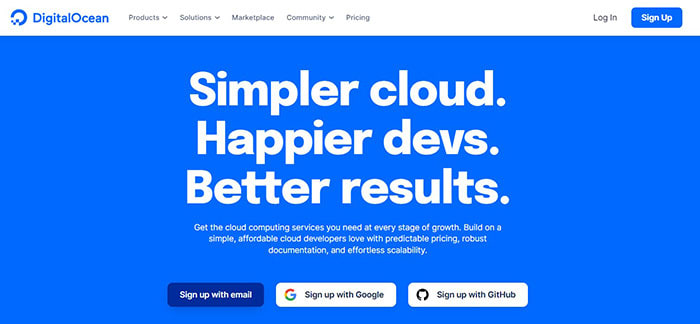 DigitalOcean offers cloud services to support a variety of uses. Users can build API backends or web apps, and they can integrate their projects with popular platforms like Kubernetes. Customers can learn the basics of cloud computing, as well as take advantage of the benefits below. But for those looking to move their apps to a supported and stable console, it might not be the best solution.
Pros
Easy-to-use interface.
Low entry price.
Lower overall cost compared to other products because the platform is unmanaged.
Cons
Lack of live support.
Subpar console support and stability.
Need to pay for backup droplets.
CloudFlare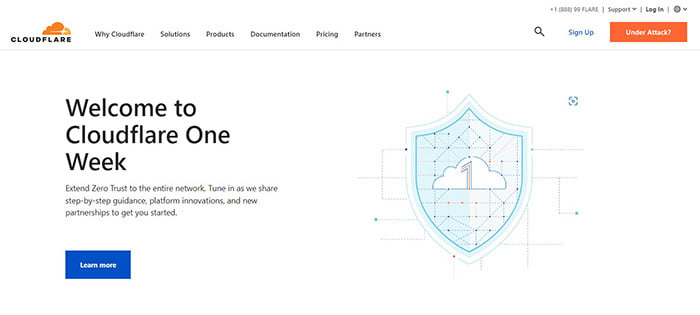 CloudFlare supports your latest SaaS project by making sure it stays secure, fast, reliable, and private. Their cloud hosting is backed by one of the fastest global networks designed to deliver first-class reliability, security, and performance. Liquid Web is a proud partner of CloudFlare, and we offer CloudFlare plans to our users as an added bonus.
Pros
Several different products for SaaS users.
User-friendly interface.
Free plan offers robust features compared to competitors.
Cons
Free version is slow. Can take up to 24 hours to import data.
Advanced security features only available on paid plans.
No live support available.
4 Tips for Choosing SaaS Hosting
Although the companies above have their drawbacks, they represent some of the most prominent names in the SaaS hosting space. However, there are many more options available.
Before shopping, here are some key features to consider when choosing an infrastructure provider to host your SaaS or software:
1. Assess Your Business Needs
Each SaaS application is different. You'll need to consider which individual resources your SaaS or software will rely on most. Hosting providers can provide a wide array of features. Consider which features your team can handle in-house and which make sense to offload onto a third-party provider.
Your budget is also going to be an important consideration. The features offered by hosting providers cover a broad spectrum. By taking a deeper look into which features are most important to your business, you'll be able to find the perfect balance of features offered and the price points available.
2. Plan With the Future in Mind
Your SaaS resources will need to grow along with your business. Whichever hosting provider you choose should have options for you to upgrade your account to increase the resources they make available to you and enhance your business's scalability. It's also crucial for you to check and make sure these upgrades are available at a reasonable pricing structure.
The SaaS provider's technology features will play an important role as well. It's important to consider the technology your provider offers at every stage, but when planning for future growth, you'll want to focus on technology you think you'll need 12 months from now. Does the provider you're currently considering support those technologies? If not, they may not be the best overall solution for your SaaS platform.
3. Consider Security
With all of the global businesses using cloud technology to power their offerings, in the software business and beyond, digital threat actors have started to take notice. Large, complex data networks result in greater exposure to vulnerabilities and create a veritable digital playground for the hackers of the day.
When shopping for a SaaS hosting provider, you'll need to choose one with the proper security protections for your business. Consider the industry you're serving and the type of information your customers may need to store when using your SaaS platform. Certain industries need to adhere to strict regulatory compliance when it comes to data management.
When weighing a potential provider's security options, here are the features you should consider:
Malware scanning.
Network monitoring.
Firewall.
DDoS attack protection.
Server and system hardening.
Phishing protection.
SFTP.
Spam filter.
User authorization.
Certifications (i.e., HIPAA, SSL, PCI, TLS).
In addition to your SaaS app's unique needs, you'll also need to consider your overall security goals. Taking the above features and functions into account will help you choose a SaaS hosting partner that can be trusted throughout the life of your business.
4. Understand Your SLA
Once you've found the Software-as-a-Service hosting company that's right for you, it's time to make your partnership official. Usually, this is done through a service level agreement (SLA).
The role of the SLA is to set the expectations for both parties, how you're expected to act as a customer and how they're expected to act as a vendor. The service level agreement will also outline important details like what will be used to measure performance and what happens in the event of a service disruption.
Here are a few key items you'll want to look for in your hosting provider's SLA:
Uptime Guarantee: A reputable hosting provider should be able to guarantee five nines of uptime (99.999%). Any downtime you experience means customers can't access their important files and data. Look for maximum uptime.
Simple Termination: You should be able to terminate the agreement quickly and easily, without retaliation from the provider, in the event of SLA non-compliance.
Reporting: The SLA should clearly state that your hosting provider is responsible for delivering performance reports, as well as how often they're to be delivered.
Penalties: Make sure your service level agreement details what happens in the event of downtime or service failures. There should be a clear path for compensation or service credits for any significant service disruptions.
To find all these qualities and more in a Software-as-a-Service hosting provider, you'll have to work with one of the most reputable names in the business. Reach out to our team of the Most Helpful Humans in Hosting here at Liquid Web.
We can help you navigate our first-class IaaS offerings to host your software to find the best solution for your business.
How Liquid Web Helps SaaS Brands
If you're considering SaaS hosting, you'll want to pick a partner that helps you jump the learning curve. You'll also want someone on your side who can help you easily transition to SaaS without requiring any major business changes or code rewrites. That's where Liquid Web comes in.
Having Liquid Web's Private Cloud on your side is a gamechanger when leveraging cloud technology. Helping you transition easily without new coding is at the core of what VMware is. Once you see how easily we can have your software app up and running on our managed cloud, you'll understand why you need VMware to make the switch to the cloud. Our expert team can also help you with complex concepts surrounding our innovative technologies like what Storage VMotion is, and how it can help you maximize uptime while transitioning your data.
With decades in the hosting industry, and experience using the latest in Software-as-a-Service hosting and server technology, Liquid Web has the infrastructure you need to compete in the modern SaaS landscape.
Contact us today and find out why we're the perfect partner to help you accomplish all of your business goals.
About the Author

More Content by Liquid Web