How Much Does it Cost to Build a Website?
The simplest answer is that the cost to build a website depends on who is building it and how much they are paid per hour. When you do the work yourself, using a free content management system, you could keep the cost under $100. If you hire a professional digital agency in the United States to build a site, it could cost you $100,000 or more.
Given the variance, one of the most important question that must be answered is what kind of website you're thinking about.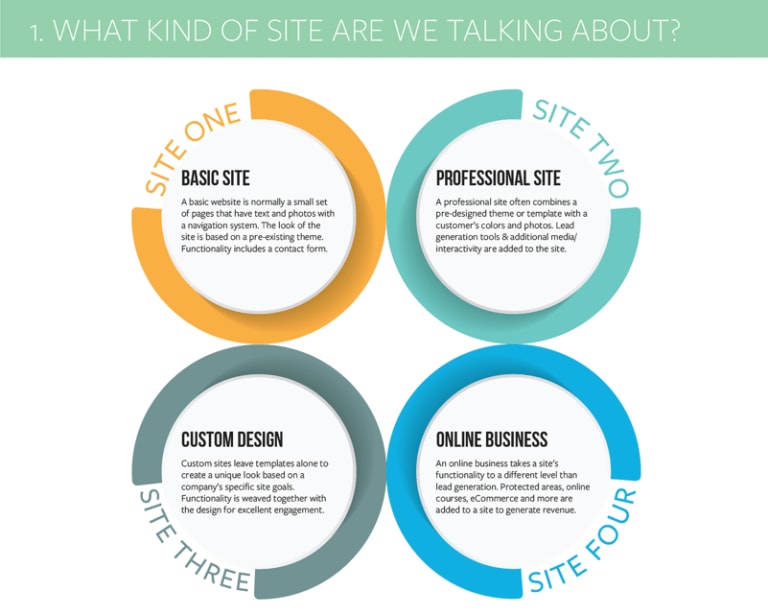 Basic Website – a few pages, mostly text & images, and a contact form
Professional Website – more pages, more interactivity, lead generation forms
Custom Website – a unique design along with features tailored to the site
Online Business Website – revenue production via courses, membership or a store
Each of these sites is different. They require different amounts of effort. They can be built with different degrees of experience and skill. And all of that impacts who you can have do the work.
How Much Does a Basic Website Cost?
Assuming you do the work, a basic site can cost as little as $65. This requires, as you might assume, that you do the work of setting up your own site, which isn't hard if you use WordPress, which is free.
You can also add a plugin called Jetpack that offers tons of functionality, also for free. This will let you create a site with multiple pages, support photos and galleries, and give you contact forms.
Because the combination of WordPress & Jetpack create most of what you need for a basic website, you really can do it yourself without hiring anyone.
So your only costs here are buying your domain name ($15), and getting hosting. While we offer WordPress hosting, we don't focus on these basic sites. But several hosting companies do, and you can get some decent shared hosting for $50/year.
How Much Does it Cost to Build a Professional Website?
A professional site can cost as little as $500 if you do the configuration of WordPress, themes, and plugins yourself. If you hire an independent freelancer it may range between $1,000 and $5,000. Digital Agencies, on the other hand, can charge $10,000 or more, even without doing a custom design (which we'll talk about next).
While some solutions exist for professional websites like Wix & Squarespace, I don't recommend them. The glory of being able to drag and drop your way into a nightmare is too high.
That said, designs like you see on Squarespace can be found from theme designers for WordPress who sell these commercially – introducing your first cost (which could be $75-150).
Additionally, you might want to purchase some commercial plugins like the one I wrote about last week, OptinMonster (which focuses on lead generation). This could cost you another $100.
When you add a commercial forms solution like Ninja Forms (free for the core plugin but with additional costs for some features), you might spend another $100-200.
Hosting for this kind of site could start as low as $15/month to double that, with managed WordPress hosts.
And none of this has raised the question of whether you're doing the work yourself or if you're hiring someone (on sites like codeable.io). The nature of a professional site is that unless you're technical, you likely are hiring someone. And that means they'll need a few hours to do a lot of configuring. This isn't development per se, but it's still technical work that someone needs to do.
If you hire someone outside of the US, they might charge you $35/hour to build your site. If you hire a US freelancer, they may charge you $75/hour to build your site. And if you hire a US digital agency, they may charge you $150/hour to build your site.
At this point, you may wonder what the benefits are of doing it yourself, hiring a freelancer or choosing a digital agency.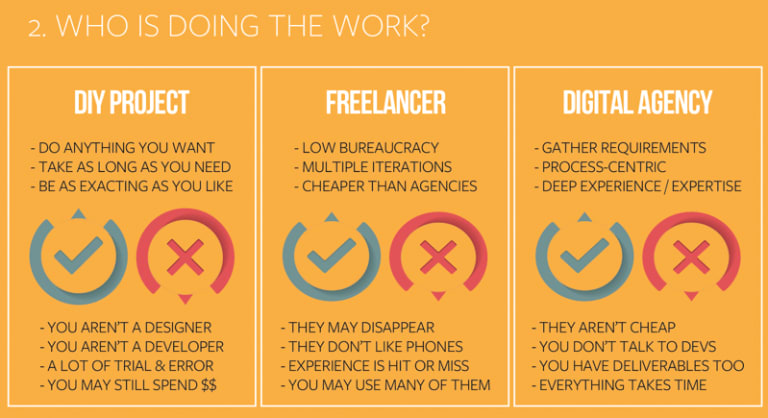 If you do it yourself, you'll still spend money, but it won't be nearly as much – even for a professional site. But I should warn you, I've taken many clarity calls where I hear someone complain about trying to build their own site and after 3 months of wasting time, they now want to find someone to help them.
Just because it starts free doesn't mean a DIY website project stays free.
If you hire a freelancer, you'll spend less than an agency and more than you likely pay yourself. But again, be warned. I've talked to many people who suffer from disappearing developer syndrome. The good news is that you likely have someone who is ready to get started right away, as they often have a preference for getting into the code quickly.
If you hire a digital agency, the cost could shock you. But their focus on getting the upfront requirements locked in may give you added confidence that there's clarity on the goal and focus of the project.
How Much Does a Custom Website Cost?
A custom website that is built by a freelancer could cost as little as $5,000 while one built by a digital agency might cost $50,000 or more. The range narrows as you learn more about a specific client and their custom needs.
This kind of site is completely different from one where you purchase a pre-made / pre-designed theme and change some photos. A custom design isn't just pretty or beautifully made. It is a design that not only is attractive but fits with your brand and collaborates with the features of your site to drive intended behavior.
Right away you likely realize that to do that will require a deeper understanding of what you want for your site – and what you want others to do when they're on your site. The discover sessions alone can cost $5,000-10,000 depending on who is doing them.
These days everyone is using a phone. That also means that you may need to consider what the design of your site will look like on a smartphone. This is often called responsive design. And it doesn't happen naturally or by chance. It is intentional design work that can take a while to get right. Some freelancer designers can do this work for $4,000, while agencies may charge $12,000 or more for this additional work.
Additionally, a great design will take into account the content that it's designed for. This often means you're looking at importing content and making sure that the design doesn't get in its own way when it comes to working with the quantity and structure of your content.
Lastly, what happens after the site goes live and you want to introduce a new landing page, a new section, a new category of posts, or a new site feature? Can you repurpose the design elements and layouts on the new pages? These days customers want to adjust the look of their site with a drag and drop solution that doesn't require calling a developer. The added work here ranges from $500 on the lowest end to an additional $6,000-$15,000 for agencies that are converting designs to a tool that will let you adjust it when they're gone.
You have to ask yourself how critical each of these dynamics are to your site because each will take additional hours of work to make happen.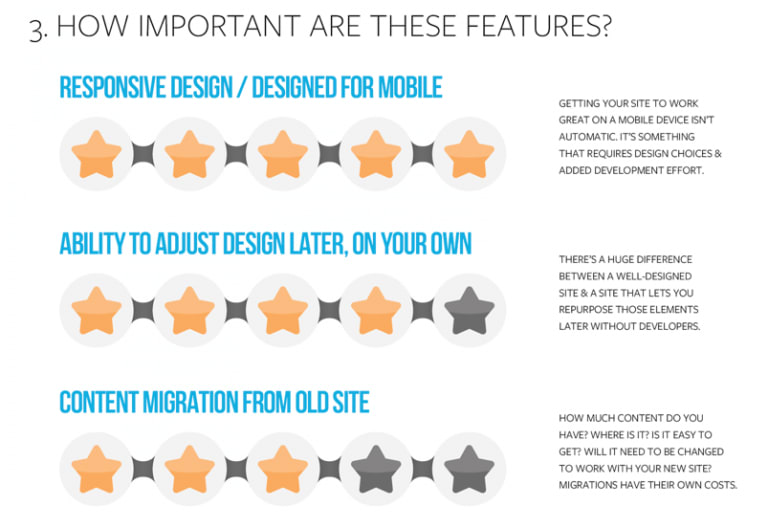 How Much Does it Cost to Build An Online Business Website?
Building a website that will function as an online business should cost you less than it costs to run an offline business, but that doesn't mean it's inexpensive. Membership sites, online courses, and eCommerce stores all range in complexity and these sites can cost as little as $5,000 (via offshore freelancers) to $100,000 from US digital agencies. Your nuanced requirements will dictate where the price lands.
Beyond the hourly rates and hours of development costs that come with projects like these, the hosting requirements change (often substantially). This also means support needs often change – as downtime here has real consequences.
You should also expect to pay for premium plugins. When building WooCommerce projects, for example, membership or subscription extensions can add a few hundred dollars to the price. Learning Management Systems (LMS) plugins also cost a couple hundred dollars.
And if you need help loading in content (from course videos to eCommerce products and inventory data), additional hours will be required.
While freelancers can do this work, it's often left to agencies because of the risks of building something that is difficult to maintain downstream. This increases the upfront cost because agencies cost more (often two or three times as much). But it also reduces the wasted effort and/or downstream costs for fixing issues because their experience often protects them from those later costs.
How Much Does it Cost to Host a Website?
As we've walked thru these different kinds of sites, I've highlighted that different kinds of sites need different kinds of hosting. A simple guide would go something like this:
Basic Website – $5/month
Professional Website – $15-30/month
Custom Website – $15-150/month (based on traffic)
Online Business Website – $100-1,500/month (based on needs)
Of course, hosting companies don't normally talk about the kind of site you're hosting, they talk about the kind of infrastructure they're offering – from shared servers all the way to managed dedicated servers.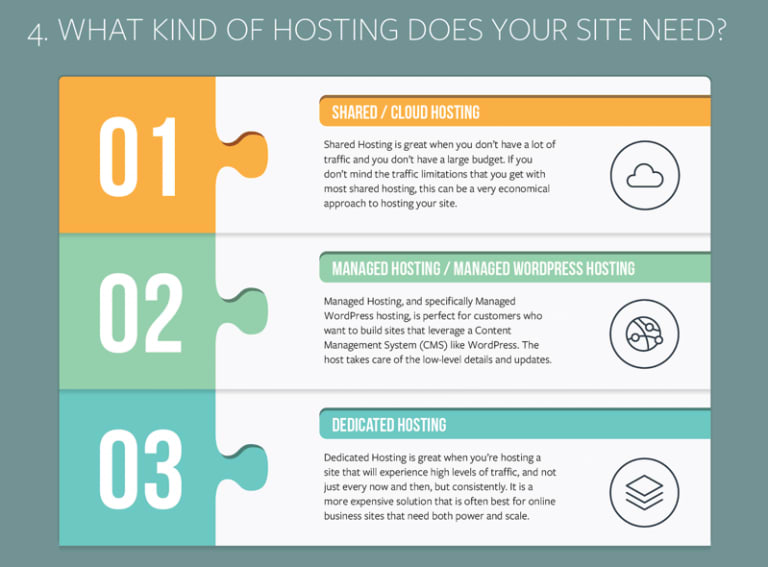 So How Much Should You Expect to Pay?
After all this, you're likely looking for a quick and simple list or chart that tells you how much you should expect to pay for a website. Unfortunately, the complexity is based on the answers to the questions:
What kind of site?
Who is doing the work?
What additional features will you need?
What kind of hosting will you need?
The way I think about things, I suggest a kind of formula which starts with the kind of site you want to build, adds extra time for additional features, then multiplies it by the decision you make on who will do the work, and then adds the cost of hosting.
You can see this formula at the bottom of this infographic.

Let's work out a sample or two.
Custom Website Example
Imagine you want a custom website that also has a responsive design and the ability for you to change it later via a drag and drop page builder.
Custom Website: $5,000
Responsive Design: $4,000
Page Builder Add-On: $1000
That's $10,000, right there. But now you're going to multiply it by a factor based on who does the work.
DIY: .25
Freelancer: 1.0
Agency: 2.5
So if you do the work, it may cost you $2,500. If a freelancer does the work, it may cost you $10,000. And if a digital agency does the work, it may cost $25,000.
Now, you add hosting of $100/month because it's a high-traffic site, and that adds another $1,200 to the total.
Professional Website Example
Imagine you want a professional website that uses a theme that comes with "good enough" responsive design, and you're not going to change the layout later.
Finding the right theme: $300
Commercial plugins: $300
Configuration of everything: $1,000
Now you're going to multiply it by a factor based on who does the work.
DIY: .25
Freelancer: 1.0
Agency: 2.5
So if you do the work, it may cost you $400. If a freelancer does the work, it may cost you $1,600. I would tell you that an agency would charge you $4,000 but the truth is that many of them wouldn't take the job because it's too small.
Now, you add hosting of $30/month and that adds another $360 to the total.
Conclusion
You can quickly see why the initial answer was that a website could cost a really small amount or grow into numbers you've never considered. I've worked on free websites and on WordPress sites that cost an enterprise over $500,000 (of course that was more of a WordPress application than a site). The variance exists, and that's why those four questions are so critical.
What kind of site?
Who is doing the work?
What additional features will you need?
What kind of hosting will you need?
Try Managed WordPress
Managed WordPress Hosting comes standard with Stencils for easy multi-site staging, nightly backups, and automatic updates for core WordPress and plugins, leaving you more time to focus on building a website or less work for a developer to handle.
About the Author

More Content by Chris Lema