In the early days of blogging, blog owners could make a profit with banner ads. However, Adsense is now paying a fraction of what it once did, and other ad networks like Outbrain and Taboola can only fill some of the revenue gaps that online publishers have relied on in the past. At first, bloggers made up for the difference by increasing advertising agreements. Often, the result was a barrage of ads overshadowing great content with irrelevant product suggestions. Visitors were turned off, and rightly so.
Today, both professional and amateur bloggers are finding new ways to monetize their blogs without relying on traditional banner ads. Here are some alternative revenue sources you can try.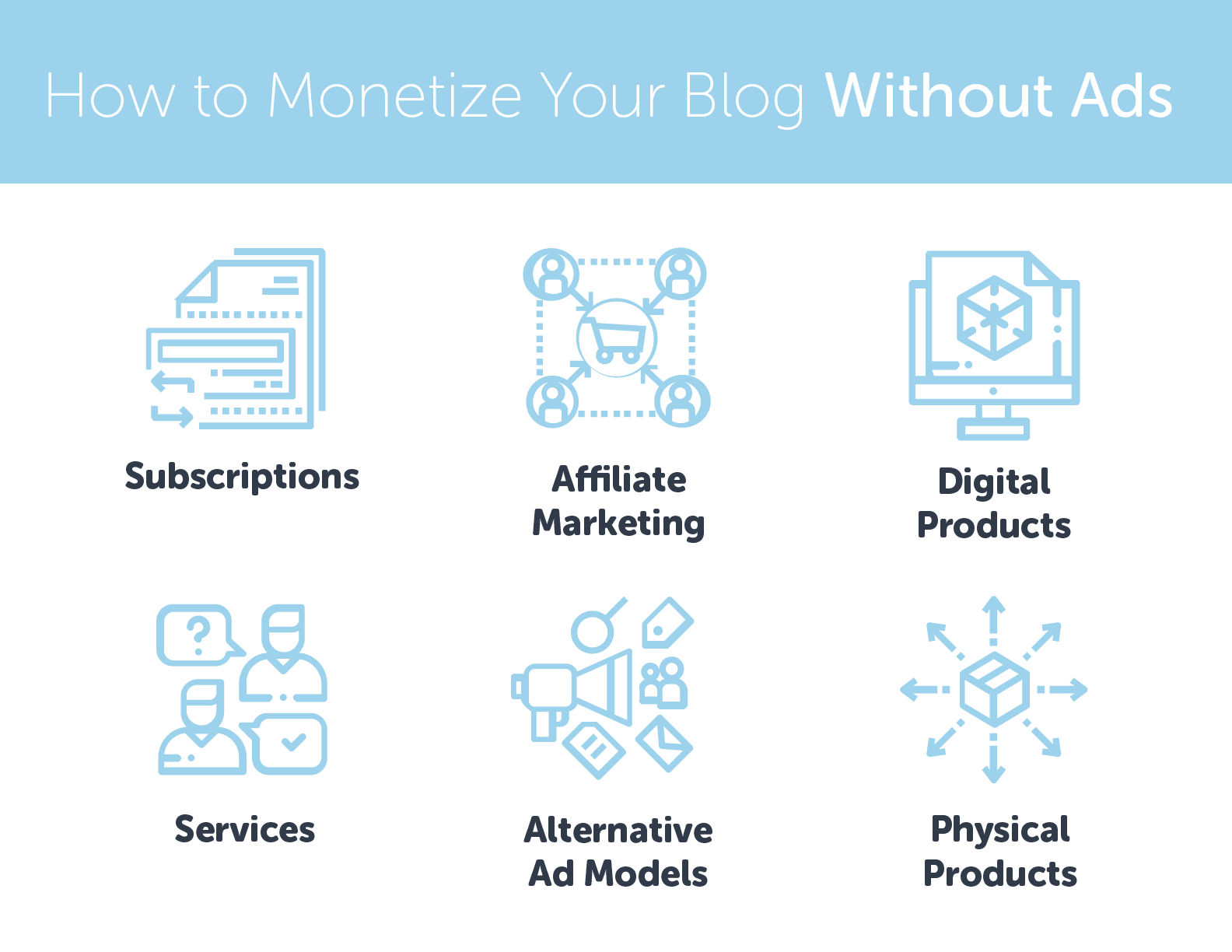 Subscriptions
Monthly subscribers bring a reliable source of income. Adding membership options is easy, but convincing your readers to buy them is difficult. Some sites like Patreon can help by providing a platform and landing page template for telling readers exactly what value you're offering in exchange for their support. These membership platforms also provide a way to reward different membership tiers with exclusive content or other offers.
If you have a large audience built already, you may be able to deliver a strong membership experience yourself through great copywriting, and a membership plugin for WordPress, such as MemberPress. For newer bloggers without a big following, we recommend sticking with a third-party platform like Patreon to take advantage of their process and user base.

Subscribe to the Liquid Web newsletter to get more WordPress content like this sent straight to your inbox.
Bloggers Bryon Powell and Meghan Hicks use Patreon to fund iRunFar, a blog for trail running and ultrarunning. The blog owners offer memberships from $1 to $500 per month. As the levels increase, memberships come with more exclusive content like monthly online hangouts or personalized letters.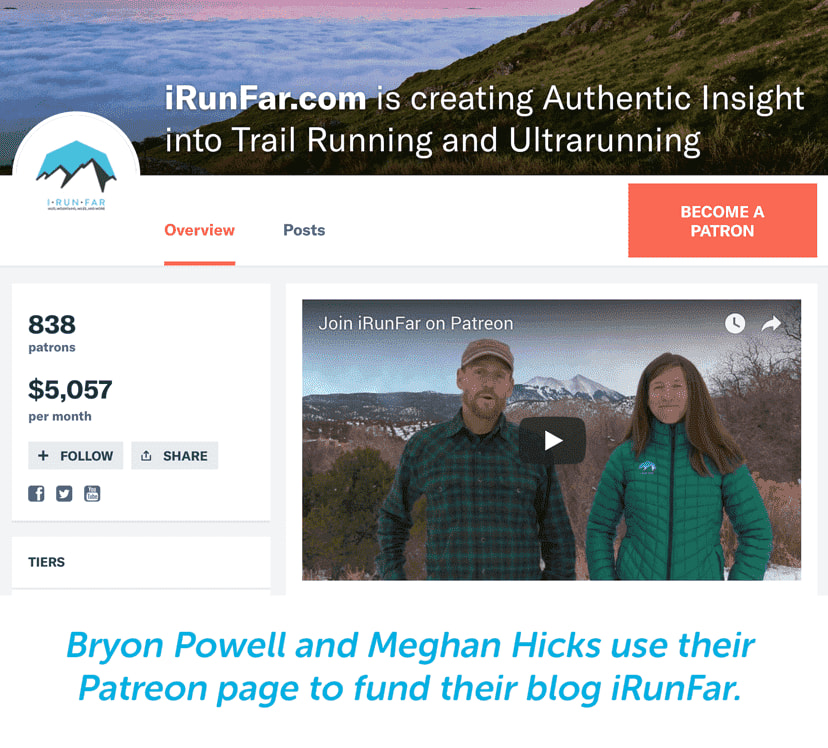 Membership platforms go well beyond simply placing a "Donate" button at the bottom of your page. Subscriptions not only give you the freedom of a regular income, but they also let you connect with your readers on a different level — by giving them access to exclusive content and a larger sense of ownership and connection to your work.
Subscriptions are great ways to get a steady income from a captured audience. But they're mostly feasible only for high-value publishers. The average blogger may have trouble at first getting enough patrons to make it worth their time.
Affiliate Marketing
Affiliate marketing is a way to earn commissions by referring your readers to specific products and services outside your blog. When a visitor clicks a link on your website (the affiliate) and purchases a product on the company's website, you get a commission for the referral.
Bloggers can join affiliate programs pretty easily with larger programs, like Amazon Associates. Other programs can be more selective, or hard to track down in specific niches and topics. Affiliate programs are also available outside of just eCommerce sites like Amazon — any website that can track online sales can set up their own affiliate program if they choose. Other common examples include digital products (like courses or eBooks), lead generation websites (such as credit card signups or similar products that have an application process), or software companies that charge membership fees.
The easiest way to find affiliate programs is to search for "[topic] affiliate program" and see what you find. Also, try looking at the products that other bloggers in your niche are promoting, to see what might be working well for them.

Another option instead of signing up for tons of affiliate programs directly is to use a platform like Skimlinks, a service already signed up for thousands of affiliate platforms. These platforms let you install code that automatically adds affiliate tracking to existing links on your website without you having to create the links manually. They do this by detecting those links on your pages using Javascript, and redirecting the user through an affiliate link to reach the same destination URL.
For an established blog with hundreds or thousands of existing pages of content, affiliate networks can be a fast and effective way to add a new revenue stream, depending on the type of content you've written in the past. For a new blogger, it's one of the fastest ways to get accepted into affiliate programs that may not be interested in accepting small websites until you have a bigger audience.
Instead of affiliate content links, some WordPress website owners add eCommerce functionality with plugins like WooCommerce to promote products. Rachel Porter's vegan-test-kitchen.com blog has WooCommerce product pages devoted to showcasing products relevant to her customer's needs (e.g. blenders, kitchen gadgets, and pantry essentials).
If you've already started producing your own digital or physical products on your blog (something we'll cover more in a moment), you may even want to start your own affiliate program. Encourage other bloggers in your space to help sell your products by offering them a commission.
Affiliate marketing is great if the products and services are relevant to your area of expertise. If you're blogging about pets, selling pet products is a natural fit. If you're blogging about economic theory, you may have a harder time encouraging your readers to buy things without losing credibility. Follow the 10 Commandments of Affiliate Marketing to improve your odds of success.
Digital Products
One way to make extra money on your blog is to create and sell your own products and services. Here are a couple of ways to earn extra income using your own sweat equity.
Premium Content
By creating and selling your own online courses, ebooks, guides, templates, and other exclusive digital products, you can tap into a reliable source of passive income. Offering these digital products to customers is also an effective way to capture email addresses and grow your email list.
Porter sells three of her own creations in her Vegan Test Kitchen Shop: two Smoothie Challenges and a Vegan Smoothie Bowl recipe eBook. For those who've purchased the challenge, Porter sends daily emails to inspire them to stick to the program, along with tips tricks, and product recommendations — all of which are affiliate links.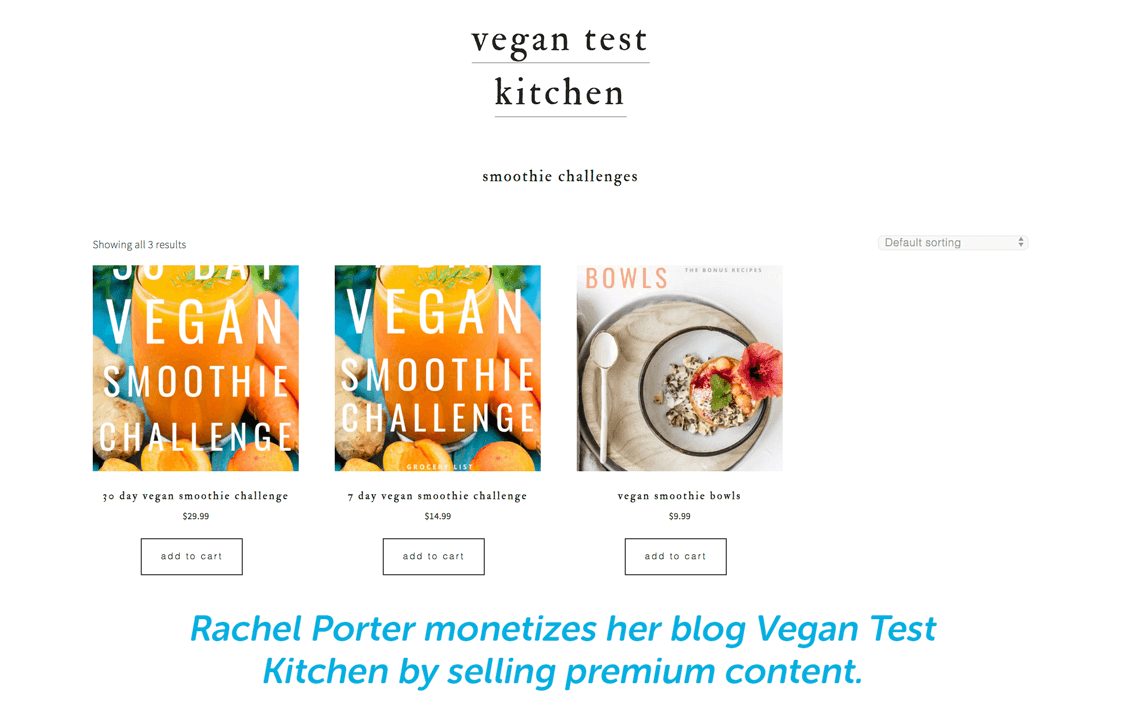 Porter says email is a big driver of sales for her own products. She explains her strategy: "Say I wanted to make an additional $1k one month, I can do so by sending my [customers] an email offering them the chance to purchase my products at a discounted rate for the next 24 hours. The urgency really drives sales, and because my list is already engaged, they are much easier to sell to than someone who's visited the blog once."
The fashion site EffortlessGent offers free dress tips for men along with premium paid content available behind an email sign up. To guide visitors to their premium content, the site uses long-form landing pages filled with tons of tips along with a welcome by the site's founder.
Online courses also make profitable premium content. You can opt to sell courses on your own WordPress blog using online course plugins or by using a course hosting platforms like Teachable or Udemy.
Digital products take some upfront work, but they're the best option for maintaining a consistent brand for your blog, and they have higher potential margins than affiliate partnerships. Perhaps more importantly, once they're created, they have a long shelf life. In many cases, you can continue selling them for years.
Market Research & Insights
In the world of eCommerce, consumer data is the Holy Grail. Companies, especially those in niche markets, want to know everything about the likes, dislikes, habits, and proclivities of their target customers — and they'll pay to get it. As a content publisher, you can gain access to this valuable data with polls, surveys, and browsing habits. Use your unique position to gather and sell market research and customer insights to companies.

GoodFirms is a research and review platform that helps business find agencies and consultants. Kim Smith, a content marketing manager at the company, believes bloggers have an opportunity to profit from data collection:
"Selling facts and insights for a niche is another way to monetize a blog," she says. "Stats obtained from blogging efforts could aid businesses to enhance and polish their product/service for the targeted audience. Bloggers can earn a profit by "bridging the gap between the market and marketers."
One example of a publisher selling market insights about their industry is Skift. They offer some publications for free, but their research subscriptions are a great example of how a publisher can turn their knowledge of a topic or industry into high-value insights. Publishers can sell these insights to advertisers and brands who need to better understand a specific audience, company, or other research areas.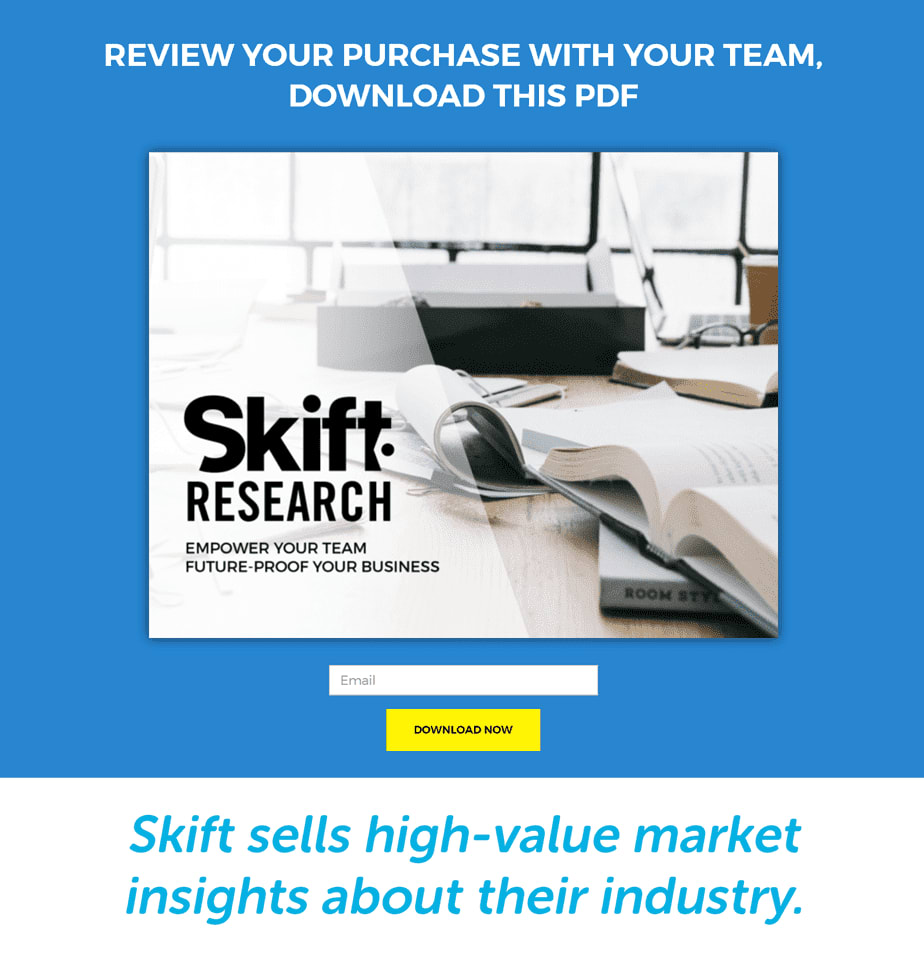 Market research takes some skill and knowledge about how to gather and analyze customer data. Companies looking to buy data will probably look for bloggers with premium content and larger followings. In the end, even if you can't sell your data, at least you'll have completed some valuable market research for yourself.
Services
If your blogging topics don't align with digital products, consider selling your talents, knowledge, and expertise as a service.
Consulting
If you're a blogger, you're probably already giving readers advice in some form. Consulting is just professional advising that pays. All types of groups, firms, and people look to those with expertise in a specific area or topic to help them solve problems or guide their future decisions.
You have expertise. So focus on building a network of people and groups who would pay for your advice. Write a consulting resume and begin shopping it on online job sites like Indeed or ZipRecruiter. Use salary aggregators like Glassdoor to find yearly salaries for consultants. Use that information to build pricing plans for your own services.
Freelance Blogging
You're a subject matter expert, so use your knowledge to help others grow their blogs. It's easy to get started. The job listings for freelance bloggers is endless, and covers almost every niche topic you can imagine. Job sites like Freelancer let you create freelance profiles and bid on projects posted by companies. Online job boards for freelance writers are another good source to find side hustles.
Private Label Rights
If you're cool with selling the rights to your work, consider producing private label rights (PLR) content for marketers. PLRs are a way to license generic content to brands and businesses who want to purchase and adapt it to their brand. For example, an online pet supplier might need an e-book on "Training Your Cat" they can adapt to their brand or break up into a series of blog articles. The pet company might use a PLR platform to buy your ebook along with the copyrights. You would get a cut of the profits.
Alternative Ad Models
There are other ways to advertise for companies aside from traditional display ads. Sponsored posts and job listings are two alternatives that will get you paid without cluttering up your blog.

Sponsored Posts
Brands often approach bloggers to write sponsored posts promoting, reviewing, or endorsing their products and services. So, a sponsored post sits somewhere between a traditional ad and a blog post. If you're a good fit for their brand, a company may offer you free products, discounts, gift cards, payment or other compensation for writing a sponsored post. The amount of input into the post depends on the company. Some have a heavy hand in the copy, images, etc. Other brands have fewer stipulations and input.
Brands pay anywhere from $1k+ per post, so it's an excellent source of revenue, according to Rachel Porter. However, the author and blog coach warns there's a downside for your site's SEO:
"Sponsored posts also drive traffic away from my blog … Search engines boost websites that have a high rate of time on page. But if a reader is clicking away from my blog to check out the product I'm blogging about …Google sees this as a higher 'bounce rate' and drops my website in the rankings. Whereas, if my readers stay on my blog and are clicking from one recipe to another, Google views that as a positive sign and boosts my blog in the rankings."
Job Boards
Another good source of passive income for your blog is a job board. After installing a job board plugin, you can charge individuals and companies to advertise their listings. Start up is easy, but there is some up front costs to purchase the plugin. Or you can opt for a "free" job board plan that takes a cut of your profits instead of charging you for the plugin.
Job boards can also help increase your pageviews if you integrate them with popular job aggregators like Indeed or SimplyHired. Integration lets you automatically share your jobs to these aggregators and bring job seekers and traffic to your blog. The downside: most of these aggregators aren't paid listings.
Physical Products
Of course, you can always make extra money by turning your WordPress blog into a full-fledged eCommerce venture. It takes some investment of time to make the transfer from selling ideas to selling products, but online stores are good sources of extra income. You will need to research your new buying audience and the niche topics you'll need to write about to draw them into your store. If you sell products relevant to your blog, you're almost there anyway. You might even think about starting a subscription box service.
To get started, WordPress site owners only need to install WooCommerce and set up a dropshipping partnership with a company in their niche. Owners can then handle other eCommerce basics like sales tax and processing orders.
Get Started Monetizing Your Blog
When choosing the best way to monetize your blog, consider how much extra money you want to make. As with any business venture, the number of resources in time and money you're willing to invest will determine your level of profit. Since each of the monetization strategies has different startup costs, choose the one that fits your goals.
And don't just settle on one option either. Think about using multiple strategies that work together. For example, a dropshipping store is a natural fit with also selling affiliate products and exclusive digital content.
You've put a lot of time and energy into building your content and growing your audience. Don't turn your readers off with salesy display ads that get in between your audience and your content. That's good advice whether you're a blog looking to start eCommerce or an online store looking to start a blog.
Managed WordPress Can Help
While you get your new subscription, online course, alternative ad or affiliate network up and running, let Liquid Web's Managed WordPress Hosting solution take care of the WordPress and plugin updates, image compression and daily backups on your blog.
About the Author

More Content by Chris Lema