Responsive, helpful, and dedicated in ways automation simply can't be. We're your team.
Each month, we recognize one of our Most Helpful Humans in Hosting®.
Meet Andrej Walilko
After a childhood in Detroit, Andrej Walilko moved to East Lansing to attend Michigan State University, graduating with a Japanese Language degree. Early exposure to the field of tech came through Walilko's father, who worked on computers, did Windows migrations for General Motors, and was an early adopter of the home computer (the family had an IBM 8086).
Now, Walilko is the Migration Project Manager at Liquid Web, where he also contributes helpful articles on hosting and migration to the Liquid Web Blog.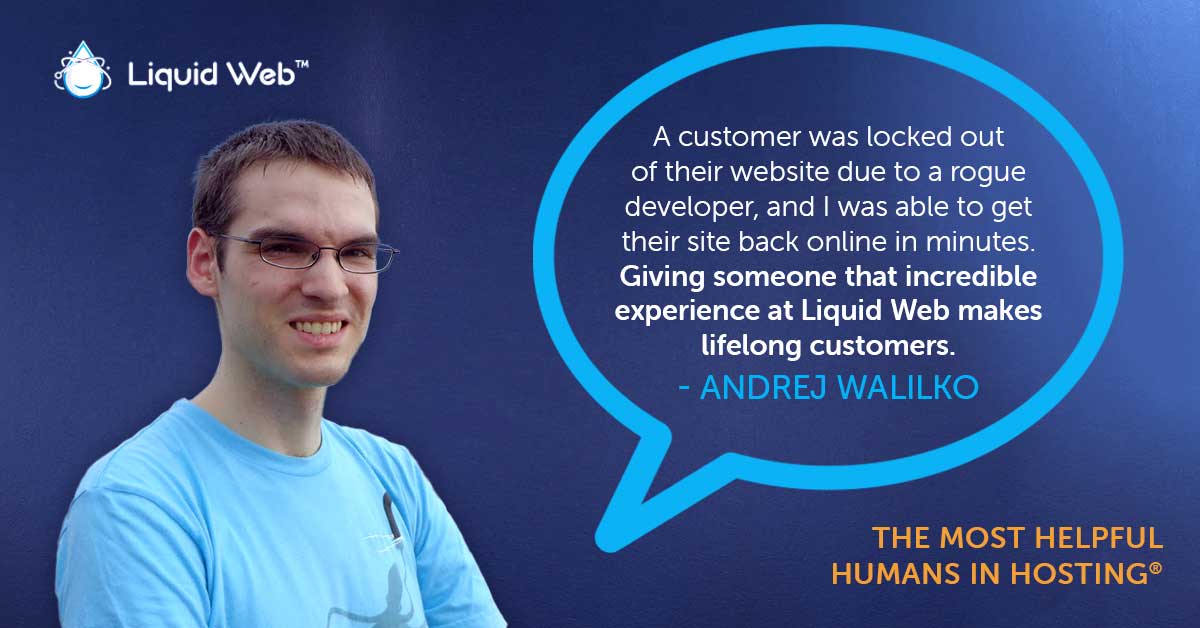 Why did you join Liquid Web?
My mother-in-law heard about the company and that it was an excellent place to work. I already had some friends working there, and they recommended I apply. I put in my application for General Support. A starting knowledge of vim and a friendly demeanor helped my interview, and I got a call with an offer before I left the parking lot.
What draws you to the hosting industry as a career?
I enjoy the hosting sector because of the variety of aspects that it encompasses. People interested in networking, hardware, software development, programming, and troubleshooting can all work under one roof. This makes for a uniquely collaborative environment at Liquid Web that lets us brainstorm how to best serve our customers—together.
Is there something specific about Liquid Web you just love?
There are so many exciting projects to explore at Liquid Web. If there's something that you're interested in, you can likely find a collaborator. Where else can you find other people who want to build a physical networking test environment, develop a simple-to-install server load balancing solution, or deep dive into cPanel backups to squeeze every byte out of storage? We all share a passion for tech, as well as for coming up with the best solution for the clients we serve.
What's your favorite part about the company culture at Liquid Web?
I love how relaxed the corporate culture has been. Everyone has some bearing on the overall nerd culture, which gives a good base to build internal relationships from and keeps everyone grounded.
From board games to comic book movies, cars to keyboards… Liquid Web is full of passionate people. It's part of what makes us The Most Helpful Humans in Hosting®.
In your eyes, what's the difference between Liquid Web and other employers?
Liquid Web is a very understanding workplace. The supervisors and managers understand the workloads and the easier or more complex work types because they often started in the trenches as Support Techs and moved up the ladder internally. This sort of deep understanding of the work being done allows better internal prioritization of projects that focus on the best customer outcomes.
What is the biggest milestone you've accomplished?
I'm really very proud of the cPanel to cPanel migration scripting that I assembled during my time on that team. The migration script led us to slingshot our volume and migration consistency through the roof. It also helped make a more complete investigation and compatibility matching, making each migration for every customer just as good as the last, no matter who is handling it. This process gets repeatability and consistent quality between migrations because the scripting handles the basic work, letting the technician make the higher-level decisions.
Tell us about an amazing customer experience you have had at Liquid Web.
I can't help but smile when I can expediently help someone in dire need. I can recall more than a few occasions where a customer needed to get their website back from a rogue developer or was given less than 24 hours notice to vacate their old host, and I was able to get them on board and live in hours, or even minutes. Giving someone that incredible experience as their first contact with anyone at Liquid Web makes lifelong customers.
What are you known for at Liquid Web? What do people specifically come to you for?
I've established myself as someone who can plan out a complex server move. And even though I haven't been on the migrations team for some time, I still get questions about migrations, which is flattering. I'm still doing migrations, but at a project level, planning out and guiding a project team through larger-scale migrations of thousands of servers.
What is one thing you wish our customers knew about their hosting?
While web server tuning is a more tedious process, MySQL tuning for responsiveness and speed is extremely straightforward. The best thing to do is put all of your databases into RAM (if you have enough). This involves changing only one or two settings.
Work aside, what are some of your hobbies?
My side hustle is rental properties, and I spend a lot of time working on house projects for these properties. I've amassed skills in quite a few trades through that endeavor: woodworking, cabinetry, plumbing, electrical, even working on steam boilers.
What is your favorite tv show?
It's a tie between New Yankee Workshop, Agatha Christie's Poirot, and Are You Being Served?
If you could have dinner with one famous person [dead or alive] who would it be?
I feel that Travis McElroy (of MBMBAM fame) and I could have a rollicking dinner together.
You can follow Andrej Walilko on LinkedIn.
We hope you enjoyed our series, and stay tuned for the next Helpful Human profile.
About the Author

More Content by Todd Terwillegar