Responsive, helpful, and dedicated in ways automation simply can't be. We're your team.
Each month, we recognize one of our Most Helpful Humans in Hosting®.
Meet Jeffrey Shall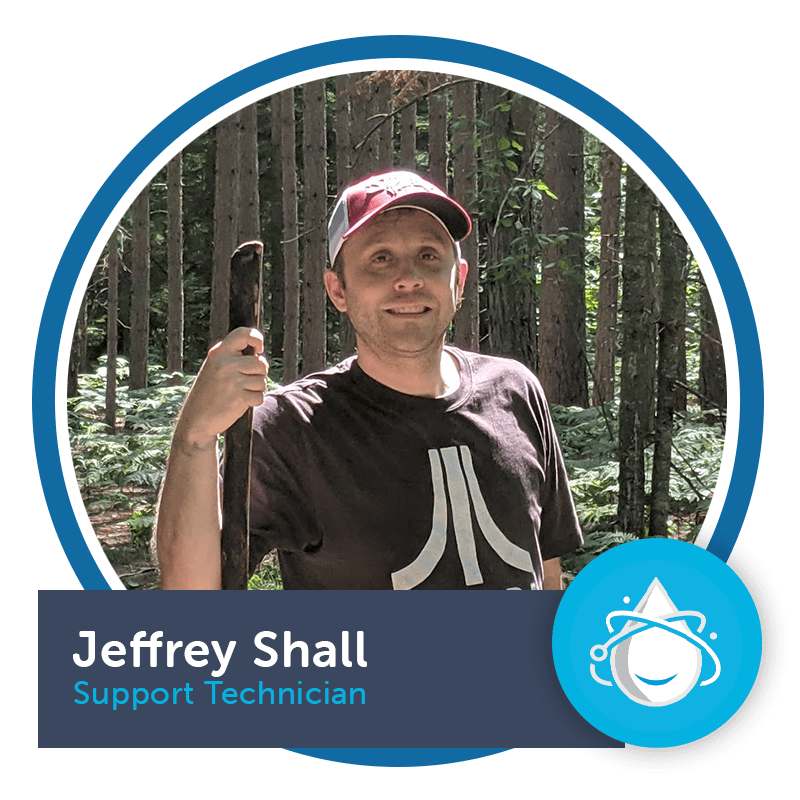 In 2007, Jeffrey Shall spent 6 months traveling around the world. Flying out from New York, he started his trip in Sweden, then went to Denmark, Germany, the Czech Republic, and finally Austria. He had previously met some folks from Australia who stated if he made it out there, they would help him out. He spent 2 months with their family and had a great time. After leaving Europe, Shall ended up in Thailand, where he spent about a month.
Shall states this trip opened his eyes to what the rest of the world was like in some respects, and he feels that the experience helps him relate to people in his job, even years later. Now, as a Support Technician for Liquid Web, Shall meets with clients from all over the world to help them with their hosting needs.
Why did you join Liquid Web?
Many of my friends worked at Liquid Web, including my wife, Ginger Shall, so it just seemed like the right fit for me as well. Most of my friends who worked at Liquid Web prior to my joining always talked about how they loved the work and how it was a fun community to be a part of. After some convincing, I left my other job and joined Liquid Web. As of this year, I have been working here for eight, wonderful years.
What draws you to the hosting industry as a career?
Before I came to Liquid Web, I was working in medical billing and looking for a change. I had always wanted to be in IT, and this was a great way to get that career started. I really enjoy this line of work because every day is different, as the issues you are helping people with vary greatly.
Is there something specific about Liquid Web you just love?
Our Beyond Scope Support enables us to be different from other companies. Liquid Web goes further to help our customers than any other hosting company on the market. I love that while other hosting provider technicians are saying no, I am able to say yes and dig into the difficult and out-of-scope problems our customers have on their servers.
In your eyes, what's the difference between Liquid Web and other employers?
My coworkers are what I love the most at Liquid Web. I have become great friends with the third shift team that I have been working with for years. I appreciate how laid back everyone is, and it's a great work environment.
Tell us about an amazing customer experience you have had at Liquid Web.
I have a few customers that call in during my shift because they like the service I provide, and we have wonderful conversations while I am working on their server. Serving customers is more than providing solutions to their problems; its about providing an exceptional experience that makes them never want to host anywhere else.
What are you known for at Liquid Web? What do people specifically come to you for?
I try to help out as much as I can. I am consistently in the Liquid Web Help Channel to assist other technicians with difficult customer issues they are diagnosing, and have volunteered in the past to help with phone training. I also take time out of my day to assist new hires when they need help.
What is one thing you wish our customers knew about their hosting?
Customers need to keep up on software updates. Checking your website and operating system for updates and checking on plugin versions for those using WordPress are all essential to keeping vulnerability points for your system in check. As a managed hosting provider, we help with all of those tasks.
Work aside, what are some of your hobbies?
I love cooking. I try to make elaborate meals to share with my wife and am always looking for new recipes. I recently made a Szechuan Stir Fry using traditional ingredients and created my own sauces for it from scratch. It turned out amazing.
What is your favorite TV show?
I watch many things on Hulu and Netflix. Specifically, I loved Game of Thrones (even though they should not have rushed the ending). I also love One Punch Man, as it doesn't take itself too seriously.
What is your favorite app?
Reddit—for the comments, of course!
If you could have dinner with one famous person [dead or alive] who would it be?
Edgar Allen Poe. I love his writings, and I think he would make interesting conversation. The Raven was one of the first poems of his I read, and I did a speech on it in school.
We hope you enjoyed our series, and stay tuned for the next Helpful Human profile.
About the Author

Follow on Linkedin More Content by Jackie Cowan