Responsive, helpful, and dedicated in ways automation simply can't be. We're your team.
Each month, we recognize one of our Most Helpful Humans in Hosting®.
Meet Marho Atumu
After earning a degree in Computer Engineering, Marho Atumu has spent the past decade working primarily as an Information Technology Consultant, doing everything from web design and maintenance to managing IT infrastructure. Also experienced in content writing, he has used his experience to offer advisory services to small and mid-sized businesses. He now uses that knowledge to provide exceptional support as a Community Support Agent at The Events Calendar, a Liquid Web Brand.
Marho opened up and shared with us what drives his passion for his work at Liquid Web.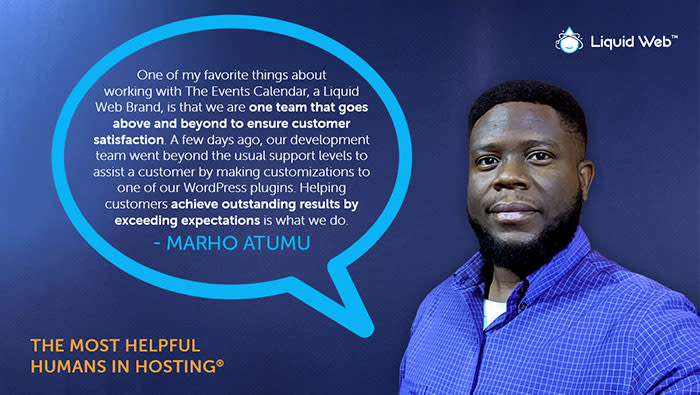 Why did you join Liquid Web?
I became a part of the Liquid Web family when they acquired The Events Calendar in late 2020. Joining Liquid Web was a thrilling prospect. I had previous experience with Liquid Web as a customer, so I was eager to become part of the team to see firsthand how The Most Helpful Humans in Hosting® serve their customers.
What draws you to the Hosting Industry as a career?
My interest in IT has always been on the services side of things. For most of my career, I have helped people take advantage of IT hardware or software tools for improved productivity. Now that most of these tools are becoming web-based services and the Internet plays a greater role in our daily lives, it has been exciting to step into the Hosting Industry and serve customers in a new capacity.
Is there something specific at Liquid Web that you just love?
Even though Liquid Web is a large family, it still feels very personal and connected. It's a supportive and fun atmosphere in which we all have the same goal—to give our customers the best hosting experience possible. Because of this shared goal, there is an openness and generous spirit that's always on display.
We give our customers those great experiences by helping one another whenever we can. You can reach out to anyone at any level at Liquid Web and be guaranteed to receive a helpful response. This means our customers are getting the best support we have to offer. I truly enjoy getting to know my colleagues, and I always look forward to working with them.
In your eyes, what's the difference between Liquid Web and other employers?
The most significant difference between Liquid Web and my previous employers is the level of awareness employees have with the greater vision, mission, and current targets for the business. Regular updates from team meetings, emails, and other forms of communication give a general idea of the direction of the company, and makes employees feel like valued members of the team. There is also easy access to senior management.
Another huge difference between Liquid Web and other companies is the incentives they provide to employees for their expertise, such as through the Employee Writing Program. As a published author, I am able to convey my knowledge through the written word, help our organization gain more content, and answer customer queries faster. It's a win-win.
What is the biggest milestone you've accomplished?
My proudest accomplishment is becoming a competent Community Support Agent for The Events Calendar. I've always marveled at how knowledgeable support agents can be, and stepping into this role was a bit daunting. I had a lot to learn, as each support request can be unique. But with time and effort, I've been able to consistently help our customers make the most of our services while also providing feedback to make our products even better.
Tell us about a truly rewarding experience you've had with a customer.
One of the most memorable and positive experiences I've had professionally was with a customer who needed assistance making customizations to one of our plugins. These customizations required a detailed and comprehensive level of support. With some guidance from our team of developers and a bit of effort on my part, we were able to come up with a solution that helped the customer achieve outstanding results.
Going above and beyond to exceed a customer's expectations is one of the things that makes this job so rewarding.
What is one thing you wish our customers knew about their hosting?
Backup everything on a regular cadence. Always choose a hosting plan that offers regular backups. If for some reason you can't, ensure you have your own backup solution in place. Businesses can suffer incredibly because of data loss. In addition to choosing a hosting solution that offers regular backups, an off-server solution such as Acronis Cyber Backup can provide an even greater level of protection.
Work aside, what are some of your hobbies?
I love to read—mostly Sci-Fi and Fantasy. Novels are a great way to get lost in my imagination, and I like that I can craft my own interpretation of scenes from a book. I also love swimming. It's the perfect way to exercise your whole body while still having fun, whether alone or with friends.
What is your favorite TV show?
I really enjoy The Expanse because of the awesome storytelling. It's based on a series of books that I love. I'm also a fan of Mobile Suit Gundam: Iron Blooded Orphans because it's one of the grittiest entries in the Gundam series and the characters are superb.
What is your favorite app?
Feedly is great. This app provides the easiest way for me to catch up with all the latest news from my favorite blogs.
If you could have dinner with one famous person [dead or alive] who would it be?
I'd love to have dinner with Neil Armstrong and hear all about his experiences as the first person to ever set foot on the moon.
About the Author

Follow on Linkedin More Content by Todd Terwillegar