Responsive, helpful, and dedicated in ways automation simply can't be. We're your team.
Each month, we recognize one of our Most Helpful Humans in Hosting®.
Meet Mariana Torrescasana
Mariana Torrescasana was born and raised in Brazil, and Portuguese is her first language. Wanting to see the world, she moved to the United States in 2004. She soon met her husband and decided to stay. She studied at San Diego State and received a Bachelor's degree in Business Administration and Marketing as well as a Minor in Spanish. She has been with Liquid Web since early 2020 and lives in Austin, Texas with her husband and two children.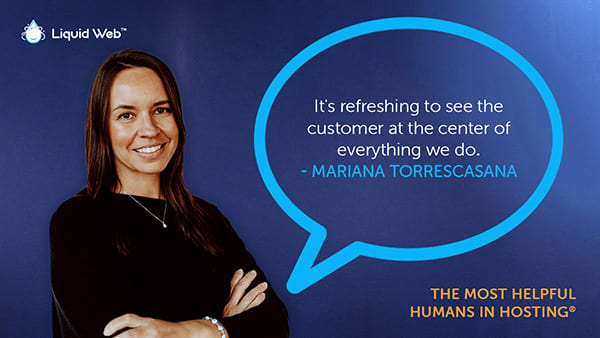 Why did you join Liquid Web?
In 2020, I worked at a digital agency, and the Nexcess Team was one of my clients. I loved working with the team, and when an opportunity to join the team came up, I jumped right in. I find it refreshing that our leadership asks for feedback and incorporates it, as well as having many women in leadership roles in all departments.
What draws you to the hosting industry as a career?
I am passionate about systems, innovation, and enabling users to succeed. The hosting industry attracted me because I've observed how online businesses and personal blogs have significantly increased the need for web hosting services, servers, and domains, allowing the industry to grow.
In your eyes, what's the difference between Liquid Web and other employers?
Liquid Web truly cares about the people in the organization. There is a strong work/life balance here, and a true sense of community and family. Folks look out for each other—not just from a work perspective (managing workload and expectations), but also at a personal level (encouraging folks to take vacations, spend time with family, and focus on hobbies).
What is the biggest milestone you've accomplished?
I'm proud of my part in enabling Marketing to pull segmentation lists by product. That was a limitation due to the complexity of our systems, and it took over three months to deliver. Much effort was needed from the Development Team, Data Team, and Technical Development Team, but the result was amazing and life-changing for our marketing efforts. The new functionality removed several steps from the previous process and immensely increased efficiency.
Tell us about an amazing customer experience you have had at Liquid Web.
The most positive experience is having access to so much talent at Liquid Web. While I don't interact with our customers directly, I constantly see and read positive reviews about how helpful and friendly our Support and Customer Success Teams are. That, to me, is a reflection of what we do internally; we enable our employees with the appropriate training and tools they need to do their job, and customers see that. It's refreshing to see the customer at the center of everything we do.
What are you known for at Liquid Web? What do people specifically come to you for?
I'm known for marketing strategy, marketing automation, email marketing, marketing systems, sales enablement, reporting and tracking, system integrations, and project management.
What is one thing you wish our customers knew about their hosting?
I wish our customers knew about all the activities we engage with to support the hosting community. We've partnered with Big Orange Heart to support mental health in the WordPress community. We also partner with Post Status, WordCamp, and Magento Association in an effort to promote awareness of our innovative solutions while also giving back to our community by offering jobs and resources to them.
Work aside, what are some of your hobbies?
I love spending time with my husband and two kids—Luke, seven, and Elena, four. I also enjoy working out, cooking, organizing, playing, and watching soccer. I am also a member of our Elementary school's PTA and love supporting them as needed.
What is your favorite app?
Instacart! I hardly ever go to the store anymore—it's magical.
If you could have dinner with one famous person [dead or alive] who would it be?
Ed Sheeran. He's one of the kindest celebrities and writes/sings the most beautiful lyrics. I've seen him in concert but having dinner with him would be the ultimate dream come true.
We hope you enjoyed our series, and stay tuned for the next Helpful Human profile.
About the Author

Follow on Linkedin More Content by Jackie Cowan