Responsive, helpful, and dedicated in ways automation simply can't be. We're your team.
Each month, we recognize one of our Most Helpful Humans in Hosting®.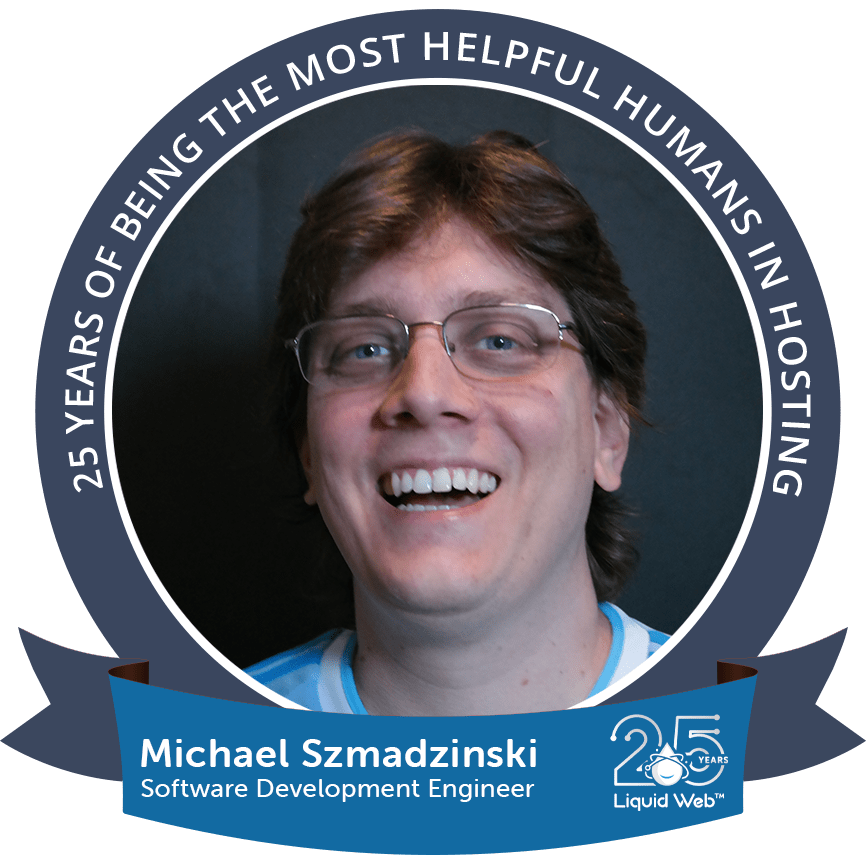 Meet Michael Szmadzinski
Before joining Liquid Web, Software Development Engineer Michael Szmadzinski worked on two small teams in independent film and local TV as Editor and then Director. One of his tasks was to design and launch related websites with brand integrations, timed page launches, and video players. Most of these website projects used Liquid Web for hosting, a wonderful experience for Szmadzinski. When the television station ended, Szmadzinski knew he wanted to join the Liquid Web family.
Why did you join Liquid Web?
I actually began as a customer of Liquid Web, and I learned a lot when I was hosting projects with the company just by asking questions of the support team. When the TV station I worked for fell through, I realized that, aside from the food and beer show, working with Liquid Web on the websites was the most enjoyable part of that job. A coworker and I applied immediately.

What draws you to the hosting industry as a career?
I love making tools and information accessible. A project I worked on with my brother was an American Sign Language dictionary website. As it stood, there weren't many online tools for ASL, and what did exist were many times behind paywalls. It was a hobby project, and we only got a few hundred words covering basic college-level courses, but we got emails. I really enjoyed reading the feedback from complete strangers.
Is there something specific about Liquid Web you just love?
I love being able to reach across departments and brands to solve problems. It's wonderful being able to reach out to someone directly beyond my team and have a quick conversation. It's easy to connect so I can learn a new process or be sure I'm making the right decision on a tool they use.
What's your favorite part about the company culture at Liquid Web?
Liquid Web has gone through a shift in its culture over the last nine years. I think we still act like a small company in web hosting even when we can wield a goodly sum of power. As it stands locally, I can tell someone I've just met, "I work at Liquid Web," and they will pull the swag winter gloves out of their bag. Everyone seems to know someone that worked for Liquid Web.
In your eyes, what's the difference between Liquid Web and other employers?
Mistakes are seen as opportunities for growth. At Liquid Web, when I've had a misstep, the company stands alongside me as I work to fix the problem, offering additional solutions. Sometimes even the obvious, "Can we just turn it off and on again?" are valid options.
What is the biggest milestone you've accomplished?
I've been able to redesign our phone system twice and coded several projects to support it. In the second design, we were able to accommodate all of our new sister companies into the system. It took a lot of work designing the network and integrating systems and APIs, but now we can take on more teams and operate phones on several networks simultaneously. It feels really good seeing that suite of projects hum along with only the occasional feature request.
Tell us about an amazing customer experience you have had at Liquid Web.
When I was still a customer of Liquid Web, I had a server get rooted. That is when someone gains complete control of your box and, in our case, replaced all our sites with malware and other sorted materials. Over a hundred customer sites were down, and I had calls coming in all morning. It was a mess. Liquid Web spent the week restoring everything they could to a fresh server and detailing security vulnerabilities of our server. I wouldn't have gotten those sites back without their help.
What are you known for at Liquid Web? What do people specifically come to you for?
I'm known for finding new ways to solve problems—specifically, finding ways to help teams do better and making tools to do it. I tend to look outside the box at issues and pull out fixes and results that most people may not think of. I asked a longtime coworker for help on this question, and she replied, "Also, if you wanna find someone who is a definition of helpful, you got it."
What is one thing you wish our customers knew about their hosting?
It comes with support—excellent support. I worked in it for years, and I know people who still do. They are great people. Our support team is there to help you get the most out of your VPS or dedicated server.
What is your nickname at Liquid Web, and why?
​​By my last name, I am called Smuj or some variation thereof. It's pretty easy to understand, and several family members are also called the same, so I also answer to No-That-One, Ugh, and Michael.
Work aside, what are some of your hobbies?
​​I like foam sword fighting, specifically Dagorhir. It's just foam-wrapped PVC, some padded shields, and a whole lot of bruising. The rules are relatively simple without magic, so it's a pretty big workout. I also work with my hands building the weapons and sewing garb. There are a lot of skills I've picked up just trying to keep up with the hobby. I've not gone to events in a while, but I have been building a small army of pages out of the neighborhood kids. Some day they will graduate to squire.
What is your favorite TV show?
​​I grew up with Star Trek, and I love all the new series that are coming out recently. I've been caught in meetings quoting Janeway and Torres on the regular. I think it's a future worth working towards, even if the immediate predictions seem rather grim.
What is your favorite app?
Hummus and fries, maybe with chippies instead for the crunch.
If you could have dinner with one famous person [dead or alive], who would it be?
​​Tim Curry, easily. He's an interesting person, and my partner would have many questions to pass along to me. They would also like to ask for his take on the song "Space Girl" by Frances Forever.
We hope you enjoyed our series, and stay tuned for the next Helpful Human profile.
About the Author

Follow on Linkedin More Content by Jackie Cowan