Liquid Web's Support Operations Manager on why she loves working in tech, the amazing people at Liquid Web, and her greatest accomplishment—her sons.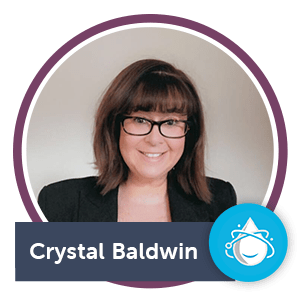 Crystal Baldwin grew up in Mason, Michigan. "We were the type of family that had dinner together every night at the dinner table," she says. " Our family vacations were always at a cabin on one of the many lakes in Michigan. We would fish, water ski, and go tubing together."
Baldwin has always been a worker. She began babysitting at 12, then at 16 started working at the local grocery store, Felpausch. "At Felpausch, I did as much as I could to grow and learn." She started as a bagger, then moved to produce and cashier before taking a management position at 19—all while finishing high school and attending college.
But tech is a new adventure for Baldwin, who started at Liquid Web just over nine months ago. "I was looking to learn something new, challenge myself, and step out of my comfort zone," she says. "I had always been curious about Liquid Web, and heard so many good things about the company from others. When I saw an opening in management, I seized the opportunity and applied. It is so rewarding to be among the amazing women currently working in the tech field."
At Liquid Web, Baldwin is a Support Operations Manager, working with employees who provide direct support to customers needing assistance with various web hosting products and services. What she loves most about working in tech is the people. "The people I get the opportunity to work with and learn from are amazingly helpful humans. There is so much talent and brainpower here! If utilized appropriately, Liquid Web's success has no limits."
The diversity of backgrounds and the wealth of knowledge embodied by her coworkers continues to be a pleasant surprise for Baldwin. "Don't judge a book by its cover is a good rule," she says. "So much untapped potential makes it very exciting to look toward the future."
Baldwin says she's been lucky enough to be surrounded by great people throughout her life; these personal and professional relationships have contributed to her growth and success. Most influential in her career journey, though, has been her father. "It all stems from strong roots," she says. "Seeing how driven and hardworking he was, it was important for me to make him proud. He was my motivation and the one that always told me I could do anything. If I said I can't, he would correct me and say, 'You can do anything, but you have to work for it.' He was right."
Of everything Baldwin has achieved, her proudest accomplishments are her two boys, 16-year-old Brandon, and 9-year-old Noah. "I love watching my oldest son play soccer. Spending time with my kids, playing board games, or having a good conversation is my favorite way to spend a day. My boys are very different, but both are a joy to spend time with." When she's not spending time with her kids, Baldwin enjoys doing anything crafty—drawing, painting, knitting, and sewing, to name a few.
As she grows with Liquid Web, Baldwin's primary goal is to make every process more efficient, to find the best way to utilize resources and employees. "You have to truly understand what your employees do, what their strengths and weaknesses are, so you can best align each individual within the company to make your collaboration as successful as possible."
Baldwin is interested in examining what can be automated, streamlined, or even eliminated to best fit the needs of customers and employees. "I ask a lot of questions, so I fully understand what is being done and why we are doing it a certain way. It is important to know the history before moving into future changes or improvements."
She is motivated by a desire to help others develop and grow to achieve their dreams and seeing those dreams come to fruition. "A part of being a strong leader is building others up around you, recognizing when someone's talent is underutilized, and helping talented individuals showcase their skills."
To Baldwin, the future of women in technology looks promising, though not without its challenges. "The outlook appears to be improving, but more work remains. The number of women in tech is slowly but surely growing. Today, there are more women in tech leadership positions than ever before," she says. "The tech industry is not just for men. The more women that join tech, the more that will follow."
About the Author

Follow on Linkedin More Content by Jackie Cowan