A member of the iThemes Marketing Team on bringing a creative spirit to the world of tech.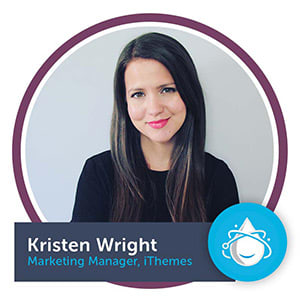 An ethos of creativity and curiosity marks Kristen Wright's life. Wright is the author of two memoirs, A Tiny Existence and Tell the Trail. "Besides giving birth in February of this year to my son, my books are my proudest personal achievements." Each book, she says, represents her attempt to record the meaning and beauty found in daily life. It is exactly this sort of artistic attention that influences the ingenuity she brings to both her personal life and professional work.
This introspection isn't new for Wright. A self-proclaimed "Okie from Muskogee," Wright spent her teenage years driving around her hometown listening to the radio. "A Long December" by Counting Crows is still her favorite song. "The older I get, the more I find the song still resonates," she says. "The lyrics have a sort of profound melancholy, but there's a hopefulness to them, too."
Wright brings this thoughtfulness to her role on the marketing team at iThemes, part of the Liquid Web Family of Brands. iThemes specializes in WordPress plugins and tools, the most extensive website content management system (CMS) in existence today. "I wear a lot of hats," she says. "I'm the Content Strategist, Campaign Strategist, and BackupBuddy Product Lead, which means I help our customers learn how to maintain and secure their WordPress websites, or grow their web design and development businesses by providing maintenance and security services to their clients."
Though Wright has been with iThemes for nearly a decade, her path to the tech industry is one she characterizes as unexpected. "I studied studio art in college and planned to teach art or be an art therapist," she says. "I took a few graphic design courses one semester, and that led to an interest in web design." After college, she worked for a large non-profit doing event-planning and then became the office manager and executive assistant at iThemes. Wright quickly transitioned into marketing and further explored her interest in blogging, content marketing, and web design.
It's a role that encapsulates so many of Wright's loves. "Creativity plays a huge part in the tech industry," she says. "While that doesn't mean paint on a canvas or composing descriptive prose, we get to solve problems every day in creative ways." For Wright, that has meant learning how to communicate with customers artfully, from the instructions in iThemes plugins to the content of email newsletters and the landing pages on the website.
She takes great pride in the product lineup at iThemes and the ways each product functions to solve problems; problems customers may not even know they have. "I'm very proud of the content marketing and email marketing strategy we've built at iThemes—from our blog, to our free ebook library, to our iThemes Training brand, to our weekly WordPress News & Updates newsletter." Everything, Wright says, is in service of their team motto: Make People's Lives Awesome.
There are several things that Wright attributes to her success (therapy, reading, and hard work among them), but it's her definition of success itself that has planted the seeds for the life she leads. "Success, for me," she says, "encompasses living a whole-hearted life. Does that mean failing sometimes? Yes. Does that mean making mistakes? Absolutely. The important thing is to keep learning and growing—both in business and in life." Ultimately, she relies on craft, care, and attention to guide her. "The most important things in life require attention and devotion. I'm thankful to have seen this modeled by my parents, who are some of the hardest working people I know."
With her innate understanding of storytelling, it is unsurprising that Wright is eager for the world of technology to benefit from a diversity of viewpoints. "The reality is the tech industry needs both the individual and collective perspective, insights, and histories of women to move forward," she says. "Women are needed in all areas of tech—from programming, engineering, design, product management, customer support, and marketing. At every level of a tech business, women need to have a seat at the table. Education and recruiting initiatives have greatly improved over the last decade, but we still need to work hard at bringing more women and diversity into tech." Technology, Wright says, offers an incredible opportunity for women to innovate and create. "Consider yourself a 'creative'? You can work in tech. Want to help people? There's a place for you in tech."
This is a path Wright feels grateful to be on—and she's savoring the experiences life offers her along the way. "Success isn't achieved overnight; great novels or paintings weren't created in a weekend. This also means that sometimes answers or solutions aren't immediately obvious, only with time. I often need to embrace how you can't rush things in life; there are no shortcuts. Some things just take time."
Hanging on the wall above her desk is a quote by Ann Patchett: It's up to you to choose a life that keeps expanding. "I want a life that continues to expand with new joys, meaning, and connection," says Wright. "That often means embracing struggle, challenge, and discomfort. It's up to me—and me alone—to choose that life."
About the Author

More Content by Mayra Pena