The Events Calendar's Content Marketing Manager on navigating different cultures, her focus on faith, and what excites her most about a career in tech.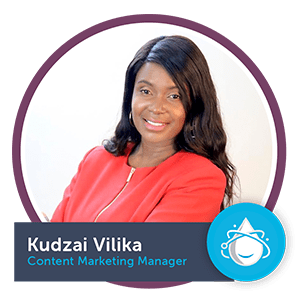 Born in Zimbabwe, Kudzai Vilika moved to the United States as a child and grew up in Arizona. "My journey has been a bit of a cultural rollercoaster," she says. "After years of growing up and being Americanized pretty-darn well, I went back home and had to relearn to be a proper Zimbabwean again." Thanks to her parents, Vilika had kept her native language (Shona) and could communicate fluently. While back in Zimbabwe, she attended Bible School and was trained for missionary work. "When I began traveling on the mission field, I later learned that the cultural shifts I faced were training me to be flexible and able to relate well to different societies," she says. "It's been an awesome journey, and I'm glad I went through it all."
That flexibility has lent itself to Vilika's career in tech, which began in 2003 when she worked for GoDaddy. "The company was very small. This was back in Arizona. They only had two offices. That's where I learned to code, and where gained all of the HTML chops I needed to build websites," she says. After that, she went on to work for Major League Baseball, doing tech support for MLB.com.
Now, Vilika is the Content Marketing Manager for The Events Calendar. "We're the makers of the number one calendar plugin for websites built with WordPress," she says. "My job is to market our product through various types of content, including videos, blog articles, social media, email marketing, and more."
It's work that Vilika finds rewarding. "I love making things that are changing the world. I know calendars aren't saving lives, but the fact that I'm involved in a project that millions of people are using all across the globe is really exciting," she says. "I also like that with tech, it's an industry that's not going anywhere. It's going to become more important and more necessary." It's been exciting for her to get a front-row seat to see how a tech product gets made and how much work goes into tiny details. "The teamwork that comes into play when deploying a new version or a new update is just amazing," she says.
Faith and family are grounding forces in Vilika's life. "What motivates me the most besides my family—my husband and my children—are the goals and visions I have for my life." But she attributes her career success to God. "I think since I was born, I've been taught to depend on God with all my heart. I've prayed through almost every situation. My relationship with God is vital to my success."
She is most proud of her faith-based work, specifically her work with Forward in Faith Ministries International. "I was a part of getting the website up and running, and have been involved in web development. I'm proud of the work that I did because it impacts lives. I'm also really proud of the media work we did with teams in Zimbabwe and South Africa," she says.
Her absolute favorite way to spend the day is with her family. "I love hanging out with my husband and the kids and treasure every opportunity for us to spend quality time together," she says. And for Vilika, it's crucial to build in time for quiet and personal reflection. "That's been such a big life lesson for me—find time to disconnect, to meditate. For me, that's spending time in the presence of God. Especially now, when we're constantly surrounded by gadgets and computers and phones and televisions, it's really important to take time for personal reflection away from all of the noise."
Vilika thinks the future is promising for women in tech, and she sees WordPress in particular as being a valuable tool for women interested in exploring tech careers. "I've been encouraging people to explore WordPress, which allows you to quickly and easily become a business person. There's a lot of financial potential and opportunity," she says.
She believes that tech is a wonderful space for women to show their incredible capabilities. "I think we'll see a lot of female tech entrepreneurs doing big things. That's my hope—that we'll continue seeing more women in leadership roles," she says. "And, I look forward to my daughters going into tech one day and being successful too."
About the Author

More Content by Todd Terwillegar