Liquid Web's Support Systems Administrator on what most interests her about tech, her biggest career lessons, and the future for women in tech.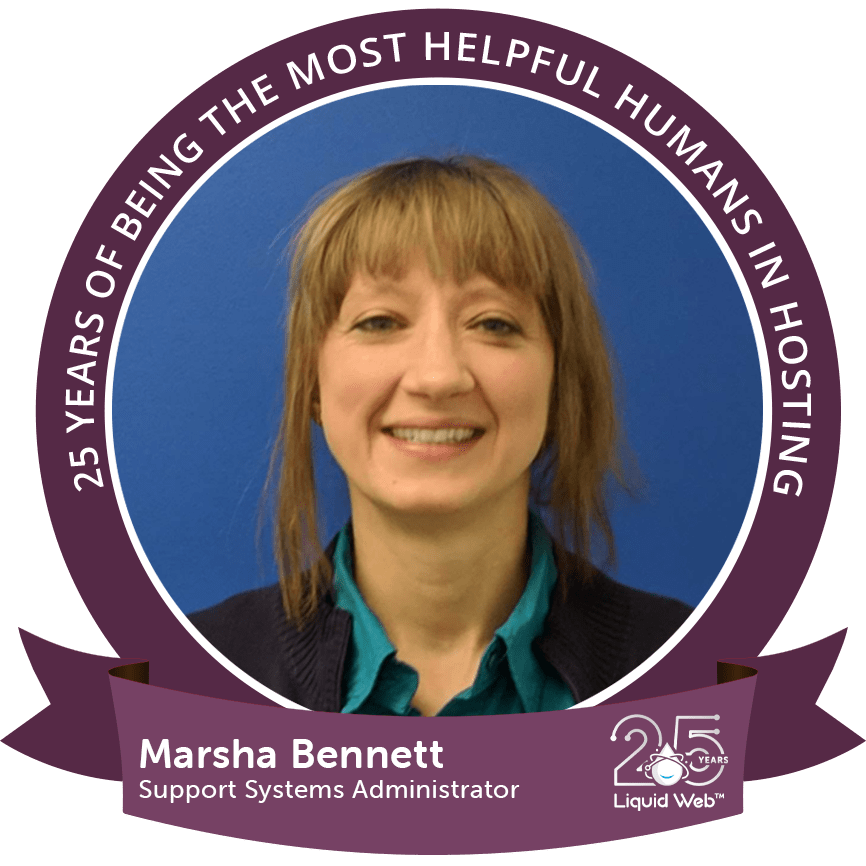 Born and raised in Mason County, Michigan, Marsha Bennett grew up on a peaceful river near Lake Michigan. Much of her childhood was spent fishing and taking long walks in the woods. Technology didn't play much of a role in Bennett's childhood, and she developed an appreciation for the homesteading lifestyle from her grandparents. The love of nature she grew as a kid is ongoing—Bennett's favorite pastimes include gardening on a warm day, followed by fishing in a quiet stream. She is also learning the concertina and the repair and restoration of concertinas and accordions.
Bennett's introduction to computers started with chemistry simulation programs while studying chemical technology at Lansing Community College, which led to an online program at the University of Phoenix focused on Software Engineering and Management Information Systems. She has now worked in tech for the past thirteen years.
Now at Liquid Web, Bennett works as a Support Systems Administrator. "My role in the company is to provide server support for customers with Windows Servers, Microsoft Active Directory-related products, and VMware support," she says. "This includes a role in implementing, managing, and troubleshooting these products so customers can focus on their business needs, rather than worry about the computer side of things."
Bennett's favorite part about working in a technology company is interacting with the diverse personalities and skillsets of both co-workers and customers, but she also loves that tech is an ever-evolving industry. "Working in technology is exciting," she says. "There is always something hidden around the corner showing just how much there is still to learn. Learning in technology is never really over, and each week, each day, there is something new to learn to keep it interesting."
A career highlight for Bennett so far is to have the opportunity to work at Liquid Web. "I love working at an award-winning company that continues to grow and improve its offerings to customers," she says. "The opportunity I've had to advance from a Windows Support Technician to a Support Systems Administrator has allowed my skill set to grow beyond what I imagined when I was hired four years ago."
Some career lessons Bennett takes to heart are that one should avoid procrastination and have short-term goals and long-term goals to look forward to continuing. "My work style is always to push a little harder, always go the extra mile. If I have a motto, it would be to have a work ethic others can model and to help boost others up." In addition, she is continually trying to improve. "I always try to have several goals to achieve each day, even if they are small goals," she says. Finally, Bennet is inspired by the excellent teachers throughout her life and reading.
Bennett believes the future of women in tech predicts a time where there aren't boundaries, and each individual will not be judged by gender. Her advice to women just starting in tech is to take all sorts of classes—music, art, history, math, and science. "Get involved. Join clubs," she says. "And read!"
She wants young women to know that the technology field has a lot of excitement and is very rewarding. "Tech expands one's view, empowers one to learn more, and the journey never really ends," she says. "It is an adventure that leads as far as one is willing to take it."
About the Author

Follow on Linkedin More Content by Jackie Cowan