For most eCommerce business owners, bookkeeping is more a necessary evil, rather than a reason to get out of bed every morning. While it's exciting to see that revenue line in black, managing the number crunching, data entries, and product orders exact a cognitive cost for you—not to mention a time suck if you're doing your own accounting and an actual dollar cost if you're not.
You can eliminate stress and save energy, time, and money if you integrate online accounting software like QuickBooks Online (QBO) with your WooCommerce platform. Here are some ways to bring the two together to benefit your online store, and your sanity.
Benefits of Integration
One of the biggest benefits of WooCommerce and QuickBooks Online integration is saving time through automation of tedious tasks like creating new customer accounts, adding or updating products, or managing subscription renewals. However, there are other ways your eCommerce store can benefit from integration.
Accuracy. Computers are better at repetitive tasks like transferring data. When your store's sales data is automatically synced rather than manually typed in, entries happen faster and are more accurate.
Consolidation. If you've got multiple stores or accounts, you want all of your accounting data to reside in one central location for convenience and better management. Integration can help.
Subscriptions. Integration gives you more flexibility to manage customer accounts for complex products like subscription plans or recurring payments.
Integration Options
WooCommerce and QuickBooks Online integration is possible with software services and plugins like:
You could always develop your own integration app, but that may be beyond your knowledge or expertise. Here is a breakdown of the top plug-and-play Quickbooks and WooCommerce integration options.
OneSaaS
OneSaaS offers integration services for a variety of apps. Its WooCommerce and QBO integration lets owners sync data between the two apps. Using OneSaas requires a monthly subscription, and pricing runs from a basic plan, meant for low-volume businesses, to a high-volume plan with unlimited data transfers. The company offers a free 7-day trial.
Key Integration Features
Automatically update stock levels
Shares new or updated products between apps
Sales invoices and sale receipts for orders
Key Benefits
Save time and money by automating data syncs related to quotes, orders, invoices, payments, and receipts.
Combine all business accounts and websites.
Sell in multiple channels and keep stock levels current.
Eliminate manual data entry and decrease accounting errors.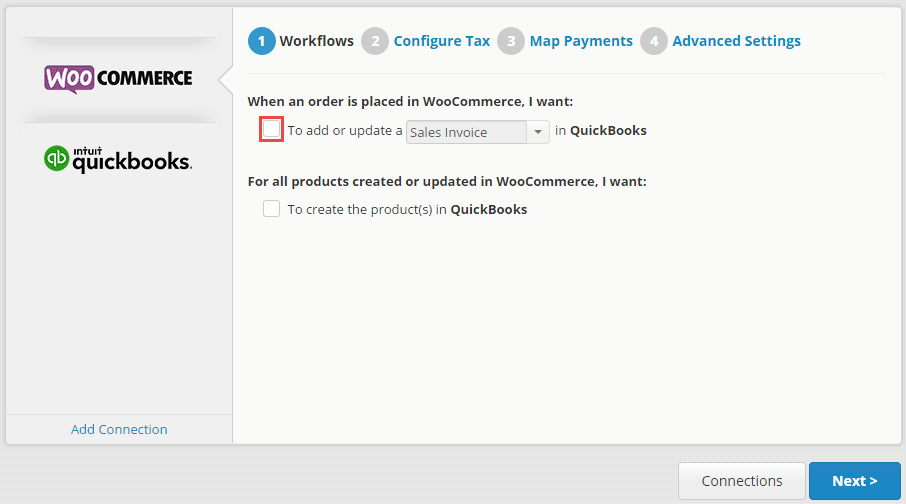 Pricing
All plans include one accounting app.
Basic plan $29/month. ("For low-volume businesses using a few business applications.")
Premium plan $49/month. ("For medium-volume businesses using several business applications.")
Unlimited plan $99/month ("For high-volume businesses using many business applications.")
Primaseller
With the integration service Primaseller, you can synchronize your invoices, inventory and purchase orders with QBO. Plus, Primaseller syncs data from multiple sales channels. Primaseller offers four different pricing plans, including an Enterprise level with custom pricing. Sign up for a 14-day free trial or request a demo to see if Primaseller integration is right for your business. Supports WooCommerce 2.6.x and WooCommerce 3.x.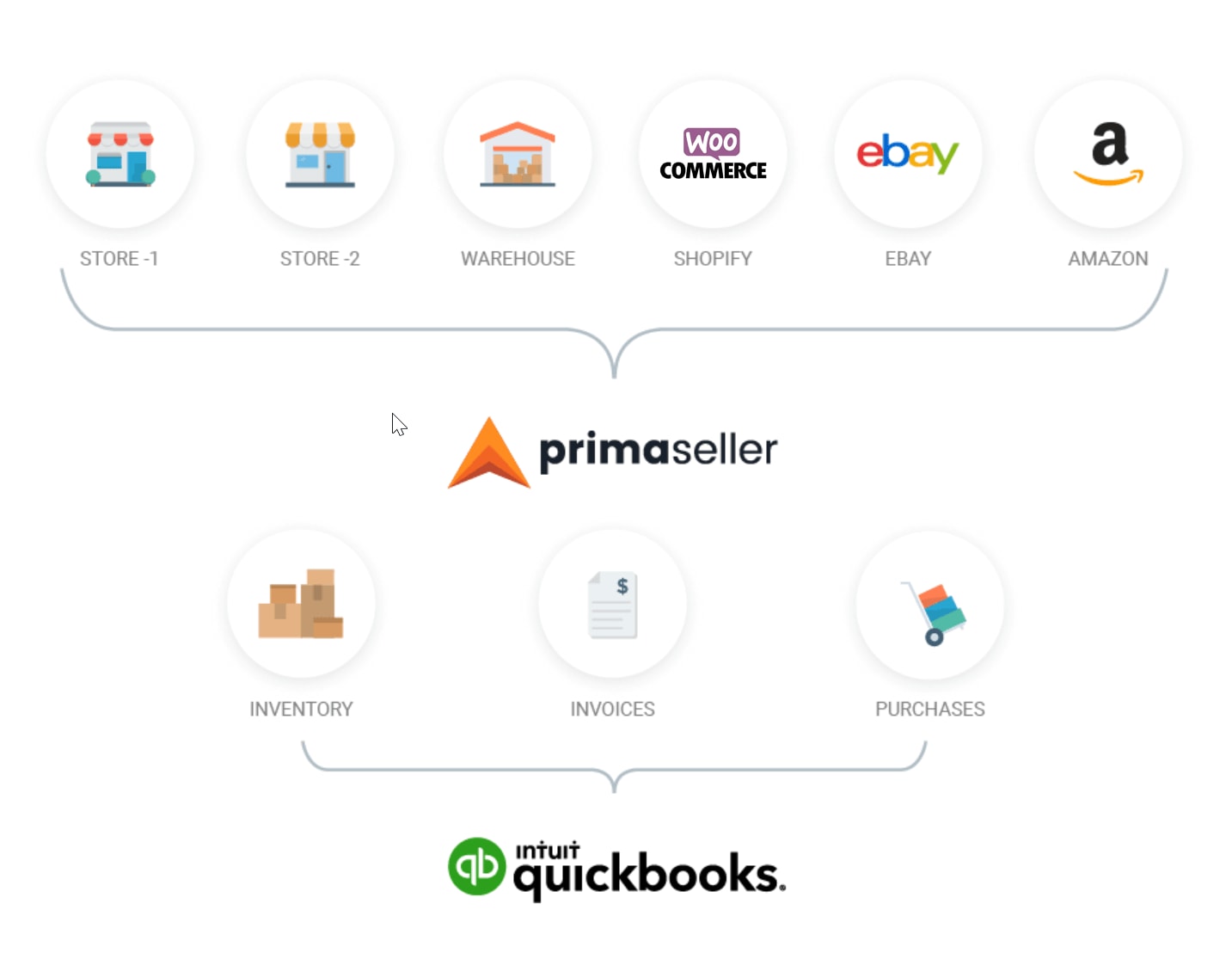 Key Integration Features
WooCommerce order fulfillment
Integration with global shippers
Inventory management
Multi-channel integration
Integrate other online channels like Amazon, eBay, and Etsy
Supplier and PO management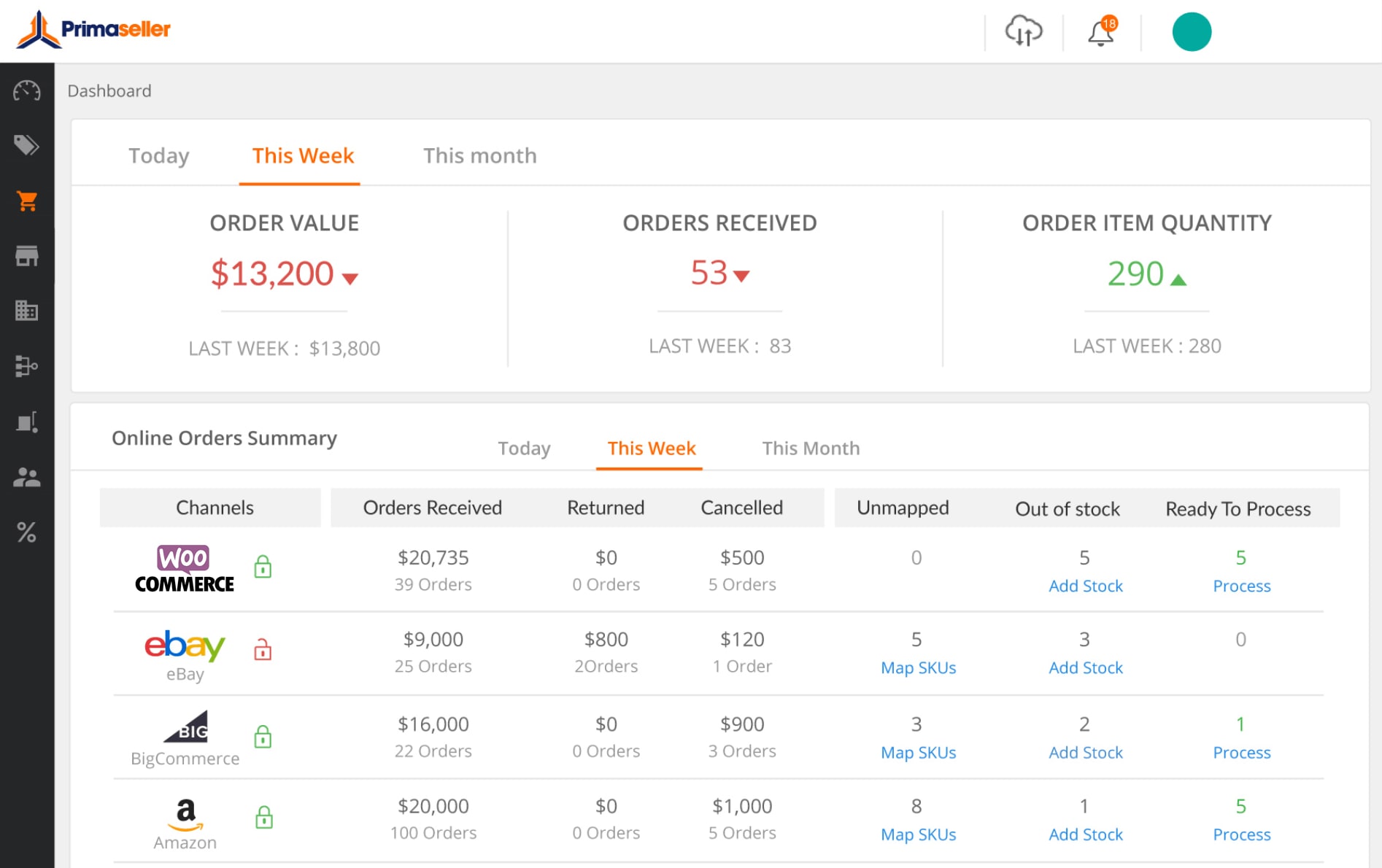 Key Benefits
After configuring multiple stores, all invoices across all stores will be synchronized with QBO in real time along with customers, products, taxes, and payments data automatically created.
Real-time sync for invoices, purchase orders, and bills for all your sales channels.
Sync all inventory changes and movements into QBO for more accurate data entries.
Pricing
All plans include accounting integration.
Beginner: $59/month. "For single-store owners with low-volume online sales."
Professional: $99/month. "Ideal for 1 to 2 stores and a growing online business."
Advanced: $299/month. "For multiple retail stores or high volume of online orders."
Webgility Unify Online
Webgility Unify Online is an app that syncs your sales, expenses, fees, inventory, and shipping across all sales channels. It automatically syncs data into QuickBooks from WooCommerce and integrates with 100+ eCommerce platforms so you can manage your business across multiple sales channels all from one app. It tracks orders, revenue, expenses and fees, products, inventory, and customers.
Webgility offers four pricing models based on your monthly orders, sales channels, automation interval, and a number of users. There's a 15-day free trial, and Webgility also offers a desktop version of Unify.
Key Integration Features
Track and sync order data.
Search, sort, filter, import, export orders easily.
Work from one set of data throughout your entire business.
View profit and loss reports.
Calculate profit per order.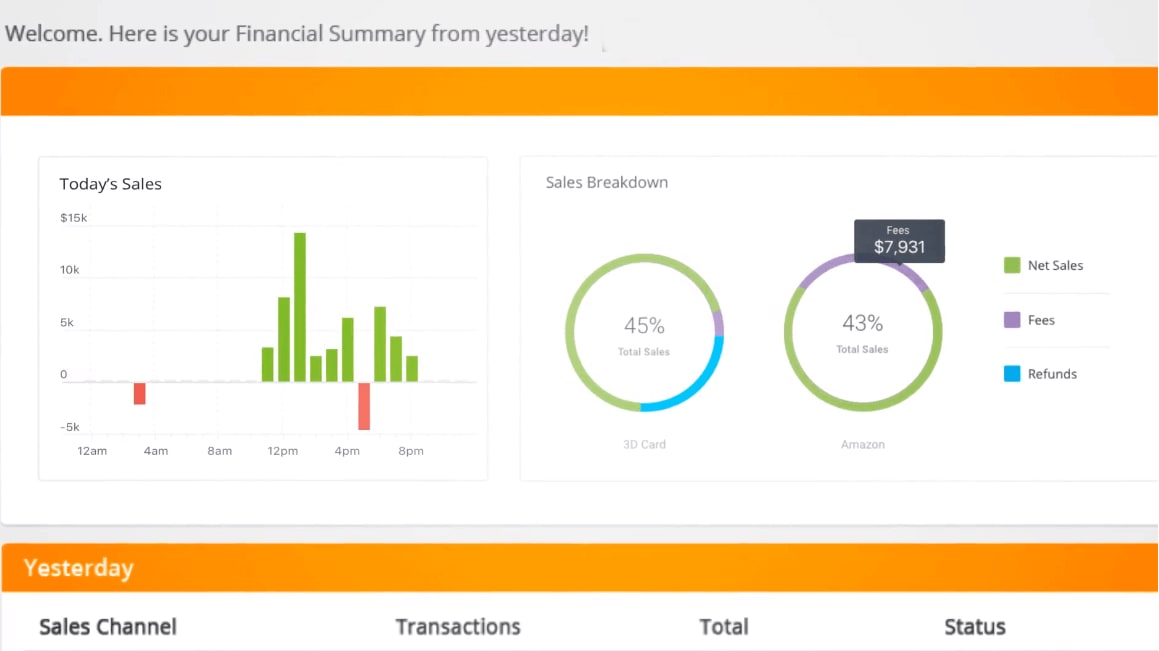 Key Benefits
Simplify your accounting by automatically posting orders, revenue, expenses, fees, and customer information.
Save time by managing online orders, shipping, and inventory automatically.
Manage all of your data from Unify's dashboard, which provides a single view of your sales channels and apps.
Pricing
All plans include accounting automation.
Growth: $79/month. "Sync your business data and automate your accounting."
Standard: $249/month. "Automate your accounting and gain insights with analytics."
Advanced: $329/month. "Automate your accounting, inventory, and order management."
Premium: $499/month. "Run all your eCommerce operations from one dashboard."
Zapier
Zapier lets you create simple but helpful connections between your apps, and it offers a few helpful integrations for WooCommerce and QBO. For example, you can create a WooCommerce "zap" that triggers renewed subscriptions to QBO as sales receipts. Over time, small automations like these can save dozens of hours per year. Zapier integrations are limited but are easy to set up and free to use for their core features. However, if you want priority customer support or integrations that have more than two steps (e.g. QBO + WooCommerce + Gmail), you'll need a Zapier subscription.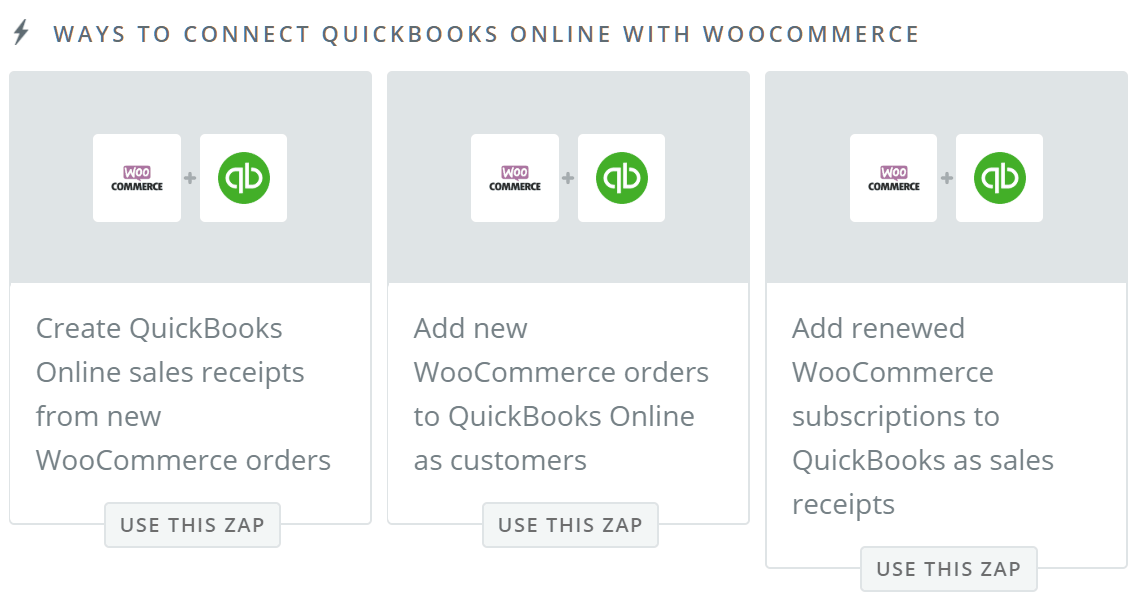 WooCommerce Zaps
Below are some Zapier WooCommerce triggers that you can use to send data to QBO. For example, when a customer places a new order, you can have QBO create a new customer entry with the same information. See more QBO actions on the WooCommerce + QBO zaps page.
New Line Item in Order. Triggers for each line item in an order. Use this if you need the line item details from an order.
New Order Status Change. Triggers every time a WooCommerce order changes status.
Subscription Renewal Failed. Triggers when a subscription renewal payment fails. Only works with WooCommerce Subscriptions extension.
New Order. Triggers when a WooCommerce order is paid for.
New Customer. Triggers if a customer chooses to register for an account.
Subscription Created. Triggers when a subscription is created.
Subscription Renewal. Triggers when a subscription renewal payment completes successfully.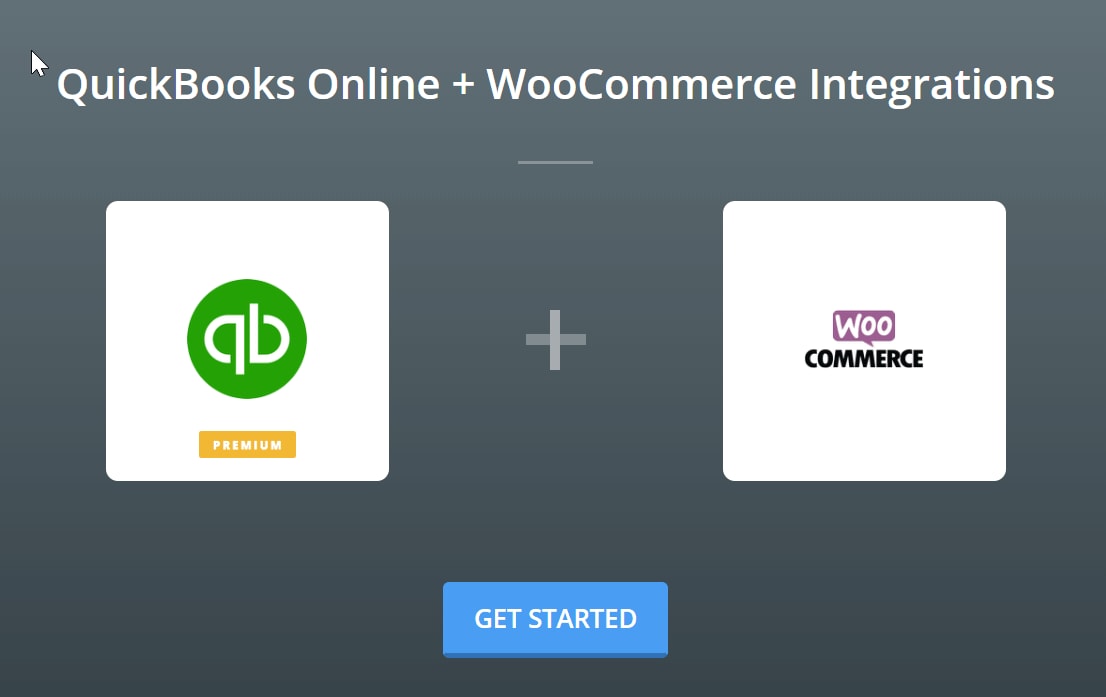 Pricing
All plans permit Zaps between Quickbooks and WooCommerce.
Free Forever: $0/month. Make 2-step Zaps.
For Work: $20/month. Make 3-step Zaps, plus priority support.
For Teams: $250/month. Unlimited Zaps.
MyWorks
The MyWorks WooCommerce plugin syncs all of your data to QuickBooks Online in real time. MyWorks offers two versions, one for QuickBooks Online and another for QuickBooks Desktop. Both let you sync orders, inventory, customers, and products. MyWorks offers both a yearly and monthly license, along with customized pricing for multiple locations. MyWorks supports all versions of QuickBooks Online.
Pricing
Here are the two pricing plans:
MyWorks Desktop
$69/mo for Yearly License ($199 activation fee)
$79/mo for Monthly License ($199 activation fee)
MyWorks Online
$39/mo for Yearly License
$49/mo for Monthly License
Key Integration Features
Unlimited, real-time data sync
Two-way sync
Hosted on your site
Global tax and currency support
Duplicated entry protection
Supports all versions of QBO
Manually sync data both ways
Unlimited live chat and email support
Includes 30-min setup screen share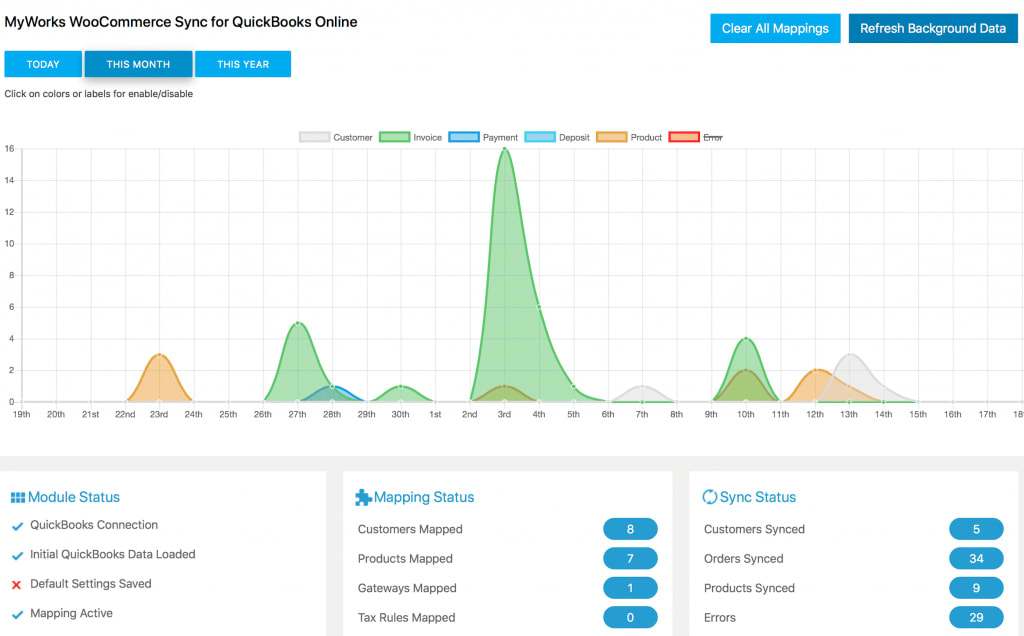 Key Benefits
Supports complex products like classes, variations, bundles, categories, etc.
Your data goes from your site directly into QuickBooks. No third parties increase security.
Unlimited transactions let you expand your store without unexpected charges.
Includes additional services for a fee, such as a payment gateway, WooCommerce Dropshippers, and developer license.
Integration Features
No integration option is perfect, and each brings its pros and cons. Here are a few features to consider when shopping for a WooCommerce and QuickBooks Online integrator.
Functionality
Consider how much functionality you need in your integration. For example, you may have little time and only need/want to automatically add new customers to QBO. For that, an easy-to-setup service like Zapier might be a good fit. However, if you're looking for full integration and complete data sync, you'll need a more robust service with more options.
There's no sense paying for features you don't need when something simpler will do. And there's no reason to try and "get by" with a service that only gives you part of what you need. First, list out your needs. Then go find the service that satisfies them the most with the least cost.
Shipping Limitations
Make sure the integration service you choose supports your current shipping service, or you'll likely need to switch one or the other. You'll want to make sure it supports popular shipping apps like Shipwire and ShippingEasy in case you ever want to change shippers down the road. Also, not all integrators provide live shipping quotes—something to think about if you take orders over the phone.
Customer Support
Regardless of the integration service you choose, there's likely going to be some setup and sync issues to contend with. But excellent customer service offsets many problems. For example, many OneSaaS customers complain of setup issues, yet praise the company's customer service for their hands-on approach. Customer support is a key integration feature you'll want to consider before buying.
About the Author