Who can avoid a good deal? But before you jump on the latest special from a cloud hosting provider, carefully consider the hidden costs of cloud computing.
When comparing public cloud providers, the number one factor most people will consider first is the price. Advertised specifications for cloud environments are similar, but if some prices are lower, or even free, you should run.
As any economist will tell you when you get something for free, you are the product being bought. Before pulling the trigger on a particular provider and moving to the cloud, make sure you don't get buyer's remorse after the first few days and end up trapped on a platform that doesn't really suit your needs, pushes unnecessary add-ons, or leaves you with expensive unused resources.
There are a variety of hidden costs of cloud computing, both financial and non-financial, that you should also consider, beyond the face value of your servers.
Looking for Fully Managed Cloud Hosting with predictable pricing?
Cloud Servers
at Liquid Web have 24/7/365 Support with a predictable monthly bill.
1. Free Trials and Opaque Prices
It's very important to always read the terms and conditions when selecting a business partner for your cloud environment. While some hosts may advertise that a certain amount of usage will be free, or that a specific amount of credit can be applied towards your billing, these may come with time limitations.
For example, a hosting provider may offer $300 of free services to new signups on a $30 VPS plan, but if you are required to use all of that credit in the first 90 days, your 10-month freebie gets cut short.
Even with a 12 month trial period, you would need to choose to stay with the higher cost of long-term use on the initially free provider or migrate data to another provider, which can prove to be lengthy or difficult for the inexperienced.
Additionally, it can be very confusing to predict how much usage your applications or sites will need. If a provider says that the first 750 CPU hours are free every month (there are only 730 hours in a calendar month), this would only give you one free CPU core for your first server.
Most applications will require multiple cores to run responsively under load, or even multiple servers, so this foot-in-the-door incurs a greater expense once you get fully set up. Plus, you would still need RAM and storage for your application, as well as bandwidth for clients to access it!
Key Considerations:
If you use a coupon or promotion, make sure you understand its limitations.
Know what resources your application or traffic demand, so that you can size your hosting platform appropriately.
If a host sells different resources (compute, database, storage, etc.) at different scales, be sure to add overuse to your cost calculations.
2. Scalability and Availability
Budget providers may provide free or cheap plans on a specific tier, which may be on a different, less expensive technology than their other premier offerings. Because of this, when you reach your limits on the budget plan, another migration would be required to move into a properly sized plan, as opposed to in-place resource allocation. This cap on scalability can hinder your business when you simply need a bit more RAM to cover a spike in traffic.
What's more, some budget plans don't even come with always-on availability! That means that if your application isn't doing anything or there is no traffic to it, your machine will get shut down to save CPU cycles for another cloud instance. This helps the cloud vendor avoid paying for valuable unused resources.
And you can be sure that budget providers would be happy to upgrade your plan to one with these features, but at a cost that may be higher than you would have initially paid for quality cloud hosting.
Key Considerations:
3. Backups and Value-Added Features
While specifications on paper for the server you are purchasing may match across hosts, cloud hosting providers may have baked-in features such as backups that provide considerable value. For instance, a similar VPS may cost $30 with one host and $5 at another. But, if the more expensive offering also provides a free off-site backup quota and BIOS-level access, then these can help immeasurably when disaster strikes, and are well worth the higher price.
Backups specifically are one pay-as-you-go feature that should not be overlooked. Check the quality of the backup system a provider offers and storage locations, as well as the ease and speed of restoration. If your host doesn't provide them, you will have to contract a third party to backup your application for you, adding more cost and complication.
Also, look at the physical location of your vendor's cloud stack. It may be less expensive to host on the east coast of the US, but if the majority of your traffic is from England and Wales, then it would be more advantageous for your application to be hosted in the EU, even if the prices are slightly higher. Proximity to the end-user would decrease latency and improve response times for your sites, creating a high value to your visitors.
Key Considerations:
If you are a fan of one-stop shopping, make sure that your vendor can give you all of the hosting features you need, such as backups, monitoring, WAF, and malware scanning.
See if you can test the backup system of your cloud provider, and gauge restoration times and retention options.
4. Ease-Of-Use
It's all well and good to have an inexpensive CPU with 1GB of RAM somewhere, but coupled with an easy-to-use cloud control platform, the utility skyrockets. The less time you have to spend thinking about and interacting with your cloud vendor, the better.
Your time is valuable, and an intuitive server and service control area, uncomplicated billing structure, and easily accessible servers help keep your focus on your business instead of on your cloud server operations. If your vendor's cloud platform is difficult to use, that pulls time away from important tasks to self-educate or ask for assistance on basic tasks.
Some hosts have notoriously complicated server control systems and difficult product naming schemes, so much so that dedicated training is recommended just to be able to create and configure a machine.
Key Considerations:
Try out a demo of the hosting control panel before you make a selection. Most hosts can make an account with no products so that you can see how to ask for support or create cloud instances.
Know the extent of your technical fluency, and make sure that a host's product offerings, sales process, and control panel can meet your needs in this regard.
5. Reliability and Overpopulation
Overpopulating is where resources for a server are sold when they aren't completely allocated to a user, which could overload server resources in the event of traffic spikes. For instance, a server with 32GB of RAM could, on paper, have 32 1GB RAM plans. But, you can count on a certain percentage of users not using all of their system memory. So, a vendor might put 40 1GB plans on the server instead.
The obvious downside here is that, when the server is overloaded with accounts, spikes in activity could mean that applications run out of memory and crash since there isn't enough RAM to go around.
Speaking of system stability, not all CPU cores and GB's of RAM are made alike. Older systems don't have nearly the clock speeds or system bus speeds to keep up with modern applications, and in some cases, might not even have 64-bit processing support. A CPU core running on a modern CPU die will have higher clock speeds, more cache, and better RAM and disk response time than a 15, 10, or even a 5-year-old processor.
Key Considerations:
Make sure that your critical sites are placed on modern and stable hardware.
Look for 'dedicated resources' in the sales materials to ensure that you always get the cloud resources you are paying for.
6. Support and Customer Satisfaction
Hosts may advertise 24/7/365 support, but what does that actually mean for you? When contacting your provider, you want a quick response and resolution directly from the persons who can help you best, rather than a long line of unhappy customers ahead of you. If you are most comfortable with communicating with your host via chat or calls, but a host only has email-based support, that could end up as a frustrating experience for you.
Also, check the levels of support available. Will your host be proactive about security errata and updates, or will you need to take care of these time-sensitive issues yourself? If you need help migrating data, selecting a hosting plan, or setting up applications, a host with expertise that will assist you in these tasks is worth a higher price.
Finally, get some opinions on the vendor from current customers. If a specific key issue keeps coming up in customer reviews, it might be best to steer clear, regardless of how much money you might save. One metric to look at is the Net Promoter Score. NPS measures how likely customers are to recommend a company to others, and can range from -100 to 100; the higher the better.
Key Considerations:
Check the NPS score for your potential hosts, and look to review sites to see others' signup experiences.
Make sure that someone is completely managing your operating system and onboarding experience; if that's not something you are comfortable with, determine if your host can take that responsibility.
If you are looking for a scalable cloud stack and world-class support that checks all the boxes, chat with one of our solutions advisors today!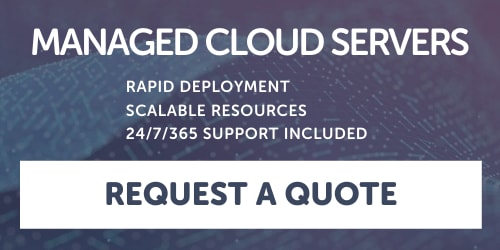 About the Author

More Content by Andrej Walilko