Cloud hosting vs shared hosting, which one should you choose?
Let's start with an overview of concepts to understand better what hosting means. Every website is hosted (stored) on a server, and visitors are pointed to that server when typing the site's URL on their web browsers. How fast that website is loaded, how secure the site is, and how the site is maintained are all considerations to think about when choosing the right type of hosting.
This server may or may not be a physical asset, depending on the hosting solution we, as site owners, adopt. We'll be focusing on the main types of hosting services available: cloud hosting and shared hosting.

What is Shared Hosting?
Shared hosting is a hosting option that involves subdividing a physical server to host multiple websites simultaneously. The sites are isolated from each other, have an allocated amount of resources (bandwidth, disk space, RAM, processing power, etc.), and are enclosed in a pre-defined environment, usually a specific combination of software and/or stacks.
The host is in charge of maintaining the server's integrity and can manage any particular site's resource allocation, disable suspicious sites, and keep the software running and updated. Sites hosted in a shared environment usually have a low footprint and take up fewer resources.
Current web host too slow?
Try
Managed Cloud Hosting
with on-demand scalability and 24/7/365 Support from The Most Helpful Humans in Hosting®.
Benefits of Shared Hosting
Shared hosting plans are the most popular solution, and for good reason. They offer several benefits to the site owners and are ideal for new site builders.
1. Low Cost
The major advantage of shared hosting is the price. These plans are by a mile the less expensive solution, making it the default choice for those who are starting to get their businesses online or those who want to attract attention to their work (blogs, plastic artists, reviewers, bands, niche vendors, etc.).
2. Virtually Zero Maintenance
While some users might need to maintain their sites by themselves, their host is in charge of most server maintenance. This includes software upgrades and configuration, integration modules, and hardware failures, among others. The host also needs to make sure the server is always up and ensure efficient use of resources, making it a hassle-free environment for the end user. Along with the low maintenance threshold, upgrades of the hosting plan are easy to perform whenever needed.
3. Software and Visual Interfaces
One common practice in shared solutions is to include a visual control panel, representing a more intuitive and more manageable approach for users who don't wish to get too technical with web development. Although the options and parameters the user can change are determined by the host and are often limited, it's still an advantage over the command-line interface in terms of usability. Because shared hosting is conceived to be an entry point for new users and small businesses, it's optimized to work well with any CMS (Content Management System), such as WordPress or Joomla.
Disadvantages of Shared Hosting
1. Performance and Resources
The number one disadvantage of shared hosting, when compared to cloud hosting, is site speed. The load time of a shared instance usually is considerably lower than a dedicated server. Another consideration to highlight is that since all the sites on the server are competing for resources, if one of them has a spike in traffic, it might break their fair power usage. This could affect the rest of the sites within the server. There are more controlled environments that prevent this from happening, but this is not always the case.
2. Flexibility and Customization
The shared instance is optimized and configured to be easy to use, but this can be a disadvantage because there is little room for customization. The range of third-party applications that can be added is very limited. Also, support for third-party applications usually falls out of the host's support scope, leaving the user with good but finite building blocks for their sites.
3. Targeted Attacks
While cheaper, shared hosting is also less secure. Several websites share the server, and if one of them is compromised or hacked, the next course of action for hackers is to attack the rest of the sites on that same server. The hackers will be looking for similar vulnerabilities to exploit. This is inconvenient, even if your site is secured. In another scenario, if you are using the local mail server, and one of the sites starts spamming, the server's IP is usually blacklisted along with the spamming domain, affecting the email deliverability of all sites within that server. This could affect your site inadvertently.
What is Cloud Hosting?
Cloud hosting, on the other hand, adds an additional layer of abstraction to the hosting environment. Instead of having a single server handling several sites within a shared instance, the cloud hosting option offers a collection of multiple servers connected to the hosting network. The sites are running on top of a "pool" of shared resources. This is true for disk space, processing power, and memory allotted. Your data and configuration settings are spread across several physical devices in different places, and they are all connected.
The term "cloud" is derived from the fact that you are essentially operating through a "virtual machine," which, on the backend, accesses all the linked locations that store your data. It shares the same principles of cloud computing but focuses on website administration.
Benefits of Cloud Hosting
Cloud hosting is a reliable option for those looking for high-level solutions. It brings a lot of advanced features to enterprise clients.
1. Higher Performance
The infrastructure of cloud hosting is designed to handle high volumes of traffic more efficiently than traditional solutions. Not only that, because the sites are running on a virtual instance, scalability is not an issue, and resources can be scaled to the users' needs at any point.
2. Reliability
Redundancy and high availability are some of the main features of cloud servers. This ensures that a hardware failure on one of the physical servers will not necessarily translate into downtime, as the data or resources can be allocated from another location. Additionally, dedicated instances provide a more secure environment and isolation protocols in case of a compromise, minimize the impact of such incidents (of course, choosing a trusted provider is of great importance), and are a solid option for small to medium-sized businesses (SMBs) that manage very sensitive information.
Note:
Hardware failure on a VPS server can incur downtime for the instances that reside on it since a VPS relies on a single server's partitioned resources.
For those looking for complete redundancy and high availability, Cloud Servers are the best choice.
3. Control and Customization
With cloud hosting, you have total control of the virtual machine. This includes root connections and the ability to access the system core files and configuration. This is especially relevant for users that have very specific setups, such as:
Deployment of NoSQL databases.
Custom APIs and web applications.
Specialized web server software or configurations.
Disadvantages of Cloud Hosting
Every technology has its strong and weak points. While there aren't many drawbacks to cloud hosting, there are a few points to consider.
1. Cost
Cloud hosting is considerably more expensive than shared hosting. While the price tag is often justified, it becomes harder for low-cap businesses and individual actors to get these services.
2. Maintenance and Security
Having total control comes with complete responsibility for maintenance and security. The hosting provider has to ensure a clean, working environment, but beyond that, most of the maintenance and security fall under to the service contractor to handle. A security strategy and regular website audits have to be routinely performed to ensure the integrity of your instance.
Cloud Hosting vs Shared Hosting: Which One is Better For You?
The first step to determine whether to choose cloud hosting vs shared hosting is to define your needs. Being clear on your financial limitations, the type of data you will handle, size and traffic flow, your team's experience, and the security budget is a must before having a precise action plan.
Shared hosting is the default option for small sites with little to medium traffic flow. Implementing the latest security technology or having huge amounts of resources is not cost-effective. A few use cases could be personal blogs, reference guides, informative sites, personal storage banks, or testing platforms.
Cloud hosting is the best choice for high-performance sites that require a secure and scalable environment (on-demand). It is also best for low-traffic sites with visitors performing heavy computational tasks, or users who have specific framework needs or custom setups. Gaming servers, high concurrency stores, streaming platforms, or HIPAA Compliant Hosting data centers are some of the most common cases in which a cloud hosting solution is imperative.
After you have selected your cloud type, the next step is to choose a reputable and reliable hosting service provider.
Get Started with Cloud Hosting at Liquid Web
Are you interested in setting up Managed Cloud Hosting? Cloud Servers are a turnkey, scalable cPanel solution powered by OpenStack. Need help? You can open a live chat with us or give us a call at 1-800-580-4985. Our technical support staff is always available to assist if you need additional information about cloud computing, 24/7/365.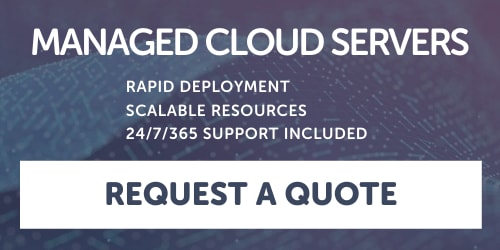 About the Author