The Cloud is a term that is used in many major industries today. For consumers, it may mean uploading images or essential documents to the cloud for storage purposes. For businesses, it may mean a place to keep important documents that they use to run their business. It may also be a place an employee can connect to from any device to gain access to their virtual desktop.
We often think of the cloud as a place to put something, but cloud-based technology can also put entire data centers, large or small, into a virtual space with virtualization. These cloud computing centers will always have a physical aspect, but everything from the storage to the network is virtualized. Transitioning to the cloud means that instead of adding drives or running ethernet cables to physical boxes, the hypervisor does all the heavy lifting for you.
If you're already hosting with a reputable web hosting company, you're on the right track. If you're new to cloud computing, though, you may be asking, "When is the best time to combine a data center and cloud computing?"
What is a Cloud-Based Data Center?
Much like the cloud, a data center can come in multiple shapes and sizes, some wholly owned and operated by a business. Others may have sections leased to different companies but physically operated by a single provider; this is often referred to as colocation.
Regardless of the model, a data center is generally a physical warehouse full of high-end servers supporting network infrastructure for an Internet connection and large HVAC and backup systems. Moving a data center to another location involves a great deal of time and resources. In addition, a physical data center does not have the flexibility that virtualization can provide when a server or group of servers needs to be moved or resized. While there are similarities between data centers and cloud computing, the flexibility you get from the cloud allows you to adjust your environment as your business grows, essentially putting data center technology in cloud computing. To provide this flexibility, many virtual data centers rely on VMware, a trusted provider of virtualization platforms.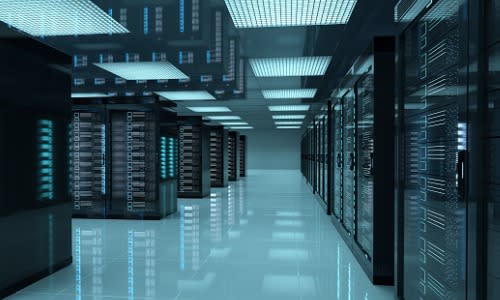 Transitioning to a Cloud-Based Data Center
Scalability, ease of transfer, and the elasticity of a computing environment are all contributing aspects to the overall flexibility of an environment. Here are some considerations when moving to a cloud computing center:
How many servers do you have?
If you have several servers running in your company's server closet, it may make sense to look into placing them in your own virtual data center. On the other hand, having a single server for light tasks may keep you from moving. In this case, the more servers you have onsite, the more it makes sense to move them to the cloud vs your data center.
Will you need the ability to add resources on the fly?
Like most cloud-based solutions, flexibility plays another vital role in deciding if a cloud-based data center is a good fit for your business. Cloud infrastructures are usually a good choice if you constantly need to add CPU cores, memory, disk space, or additional servers altogether. Because they are virtual, resources can be added, removed, or repurposed with a small amount of downtime as compared to a physical adjustment.
Do you project that you'll need more servers in the future?
As your business grows, its need for a larger online footprint increases. If you have several servers already that you have to consistently take offline to upgrade, a transition to the cloud may be a good option for keeping your downtime to a minimum. Similarly, if you need to add several servers to your fleet, you can easily add them through your virtual data center instead of buying them.
How much do you spend to run your onsite servers?
How much you spend on your physical infrastructure should also be considered, even if you have an existing data center. Maintenance and operational costs of running a physical data center grow as more resources are consumed. Server upgrades and energy costs can quickly consume a good portion of your company's budget. The long-term savings of switching to a cloud data center may persuade you to make the switch.
When to Transition to Cloud-Based Data Centers
If you expect to need five or more dedicated or virtual servers that have to be networked that you are consistently needing to adjust or add to, transitioning from a physical data center technology to cloud computing may be a better option for you.
On the other hand, If you only have one or two servers for internal applications and do not need more, keeping an on-premises (on-prem) solution might be a better option. However, there is never a better time than the present to move to a cloud virtual private server (VPS) or a dedicated server if you host your own.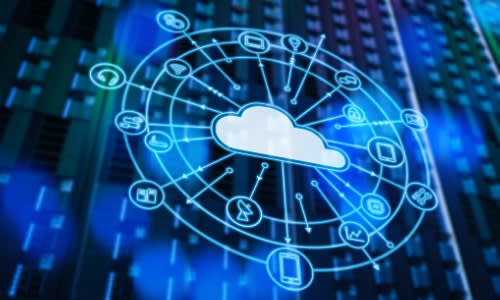 Pros of Transitioning to Cloud-Based Data Centers
Faster Scalability: Adding CPU, memory, disk space, or additional servers is easier and faster with the help of virtualization in the cloud vs a data center.
Lower Overall Cost: Running a cloud-based data center is more cost-effective in the long run without the added expense of hosting your own equipment.
Reduced Downtime for Hardware Maintenance: You can move virtual machines around to free up the physical hardware for maintenance, resulting in reduced downtime while the needed work is performed.
Improved Physical Security: While malware threats still exist, most reputable web hosts have cloud security measures in place to help protect your equipment from being accessed by unauthorized personnel. While we're on the topic of security, knowing what the common security issues are and how to prevent them is your best defense.
24/7/365 Access to Onsite Support Teams: Having someone to reach out to when you need help the most is paramount to running a successful online business.
Pros of Remaining at Data Center On-Premises
Physical Access to Data Center: Having a data center on-prem allows the owner to have physical access and control of the data at all times.
Direct Internal Network Access: On-prem data centers allow direct access to data on the company's internal network.
Better Customization Control: Some software requires specific hardware to be present. If this is a need for you, on-prem data centers allow for the complete customization of the hardware environment.
Single Tenancy: If you have a single-tenancy requirement where only hardware wholly owned and operated by the owner is needed, staying on-prem allows that.
Environmental Control: If you already have an environment that fits your hardware, you can control how cool that environment is.
Cloud-Based Data Center Use Cases
Load Balanced Solution for Large Websites: Large websites grow in complexity as they evolve. This often results in multiple servers handling the delivery of the website's content to the Internet, also known as load balancing.
High Availability Solutions: Although ensuring your content is always available is any web host's goal, there are times when it does fail. However, a high availability cluster ensures that your online content is always available with additional failover mechanisms.
Large Media Servers: Serving an extensive collection of high-resolution media takes a lot of space to store and even more resources to process. A cloud-based data center allows you to easily scale the disks needed to store the content as well as the computing power required to serve it.
Growing Online Applications: Most applications start small, but they can explode quickly. Having a secure and flexible hosting solution from the start will help you keep up with the growth of your online application.
Take the Cloud Leap with Liquid Web
If you're ready to make the transition, Liquid Web is here to help. Liquid Web has a wide variety of VMware options to choose from to help you make the best choice. Our VMware Private Cloud offers the industry-leading security, flexibility, and reliability you've been looking for. As always, it's backed by Liquid Web's 25 years of experience in managed hosting and a team of the Most Helpful Humans In Hosting®. Contact us today.