Is your remote IT team struggling with increased demands? Not sure which remote working tools will help?
At Liquid Web, we have embraced working remotely, and have been pleased with the results. The Owl Labs' State of Remote Work finds that more than 80% of their surveyed respondents are happier and more invested in their company when working remotely. Nowhere is this more – apparent than with IT teams that are called on to support customers or internal teams at all hours of the day, regardless of their physical location.
Thankfully, technology has advanced enough to make the process of setting up and managing a remote IT rather straightforward.
Here is how you can organize your IT team to work remotely.
Remote Working Culture
First, remember that your team members are people.
They must understand what working remotely means and what the company/team goals are.
Documenting and centralizing all policies and recommendations to keep everyone informed and up-to-date is extremely important. Your documentation is the guidebook for how your IT team can and should work, leaving nothing to chance.
Make sure that everyone is in a healthy and productive environment. For example, each member of your IT team should be encouraged to maintain a good work-life balance, help their families understand and respect their work hours, and set boundaries for themselves to avoid burnout from extended work hours.
In fact, this balance is critical to remaining productive while working remotely. Employees should also have a fully functioning and comfortable home office.
1. Communication Hub
The first and most important tool for remote work is the platform you choose that centralizes team communication.
Tools like Slack and Microsoft Teams provide real-time threaded conversations with many features to organize your team and enable them to collaborate on projects. Team members can chat one-on-one or set up groups for specific topics. Notifications and alerts can be set for IT events like server downtime or unauthorized logins.
A highly effective means of communication can be through text. Text (like email or chat) is inclusive and flexible but also commits conversations to electronic memory. Over time, your organization will build a source of knowledge through your communications hub that can help employees in the future.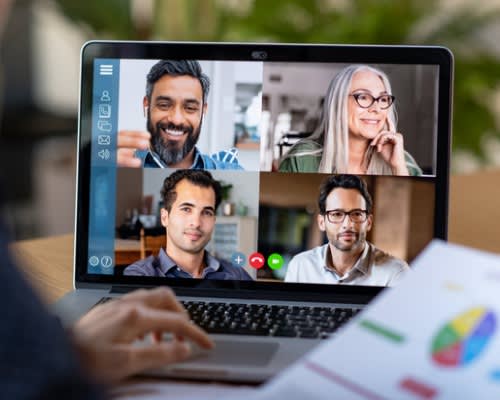 2. Synchronous Meetings
You should connect with your team on voice/video conference calls regularly. This is useful to share information and collaborate on a topic quickly. It also helps team members understand each other and foster a sense of belonging and trust. Meetings are an essential part of encouraging company culture with a remote team.
Slack and Microsoft Teams have integrated voice/video calling, but you can also use another software like Zoom or Skype if needed. These tools also support sharing your screen when you wish to make a presentation or walk a colleague through how to do something.
Remember to coordinate with your team to make these meetings as efficient as possible. Sharing an agenda before a meeting is key. Focus on agenda topics to avoid discussions that could take place via email. You should also record and transcribe all meetings, particularly when key individuals are not able to join live. They will be able to watch or listen to the meetings at a later date and time so that everyone has all the information they need to be successful.
3. File Collaboration and Storage
As an additional layer to conversations through texts, you will also want to create documents collaboratively and share them with your IT team members. The simplest and most efficient way to facilitate document sharing and collaboration is with cloud storage.
If you decide to use Microsoft Teams, you will find that it provides a storage solution that seamlessly integrates with the Microsoft Office suite. Alternatively, you can also use G Suite, Dropbox, or Box.com, which offer powerful collaboration, sharing, and editing tools.
These tools allow multiple participants to edit the same document simultaneously. They also keep a version history of each file so you can see how it changes over time.
Although these services are typically readily available and secure, you should still consider setting up a backup, which is useful if your main provider goes down temporarily (which is rare but does happen). It also protects you from accidental file deletion and vandalism. Liquid Web offers a range of solutions for precisely this kind of backup.
4. Project Management
An organizational tool is essential to track required tasks, deadlines, and contributors during a project.
Trello offers a card-based solution for that. Team members can update the tasks to inform everyone what they have done, and what they will do, next. Tools like Basecamp, Asana, and Monday also offer options for managing projects in an IT environment.
You can use more advanced solutions like Zoho Projects or Microsoft Project. These tools offer more powerful yet also more complex dashboards and workflows to support complex management processes.
These tools make it easy to keep each team member in the loop on projects while also holding everyone accountable to do their part. In short, project management tools keep everyone on track and on time.
5. Access to Internal Systems
You may have an intranet or some corporate resources that must remain secure, even when accessed remotely. In this case, you should set up a Virtual Private Network (VPN), which will ensure your office staff, who are working remotely, must use their personal credentials to access these resources securely. All data shared through the VPN will be encrypted and safe even when they connect using public Wi-Fi.
Liquid Web provides a fully managed VPN service that covers all your needs.
Empower Your IT Team With Remote Working Tools
Taking advantage of all these remote working tools will ensure your team's success and productivity and enable them to achieve all the company's goals. They will empower your team to communicate effectively and focus on getting their job done. As management tools, these resources will provide your management team with clear visibility into your IT team's work. By ensuring clear communication lines, your IT team can continue doing great things even when working remotely.
It's never been more important for corporate IT teams to be flexible. With more and more organizations moving to a remote work structure and with the pace of digital transformation accelerating, equipping your system administrators and network engineers with the tools they need to be successful is crucial to success. Liquid Web has been helping small and mid-sized businesses empower their IT teams to work remotely for years. If your organization is thinking of permanently switching to working remotely and is looking for assistance, our team of expert engineers would be glad to lend a hand. From IT teams to your entire organization, our focus is on serving businesses through technology.
About the Author

More Content by Rick Klemm