How can you make a solid business decision when choosing between public vs private cloud?
Cloud computing has been a major leap forward for public applications, but it can also offer the same advantages for private infrastructure. Your business can switch to VMware private cloud and see improved elasticity, scalability, and performance.
"The public cloud has a growth rate of 56%. It's booming."
But the private cloud is also growing strong at 28%. It doesn't grab the same headlines as consumers moving their music and documents to the cloud, but it can still have a big impact on your bottom line.
Liquid Web has a public cloud solution, but we've also rolled out a private cloud offering for businesses. Kelly Goolsby is the Director of Enterprise Sales & Solutions Architecture here at Liquid Web. He's been doing this for more than 16 years and knows his stuff. Watch the full "Moving to the Cloud With VMWare" webinar with Kelly, or read our summary below.
So what are the differences between public vs private cloud?
Differences Between Public vs Private Cloud
The public cloud is a server cloud hosting solution where you utilize an outside data center and infrastructure to host your websites, applications, and online stores. The hosting provider is responsible for management and maintenance of the infrastructure, as well as keeping your data secure from breaches and attacks.
A private cloud offers increased security and isolation of resources. Also known as an enterprise cloud, private clouds usually reside on internal or on-premise infrastructure (unmanaged), although it can be hosted elsewhere, meaning you can offload the management and maintenance to Managed Host so you can focus your efforts on growing your business.
When choosing between public vs private cloud, it all comes down to the control you need to have over the cloud.
Benefits of Private Cloud vs Public Cloud
Move to a private cloud vs public cloud to gain a number of benefits for your organization:
Cost savings
Time savings
Free up resources
Capacity on demand
Flexibility and control
Increased security
Ease of use
Cost Savings
One of the big ones that people often think of first is cost savings. The private cloud can save you money.
We researched the total cost of ownership and created a whitepaper explaining why outsourcing to a private managed cloud is better for your business.
Bottom line?
Over five years you could save over $6,000 per month with a full-time administrator or $1,100 per month with a quarter-time administrator.
But let's be honest—the cost savings aren't always as big as you think they'll be. For small-to-medium deployments, static workloads, and things that weren't created in the cloud, savings aren't as pronounced as you might expect.
"Liquid Web can do a cost savings analysis and help you figure out if VMware private cloud makes sense for your business."
Time Savings
Anyone who has worked in IT knows how much time is involved in managing servers. You have to order servers, wait for them to come in, set them up, and work out the kinks. And that doesn't include maintenance, updates, or the panic of unexpected crashes.
This is the argument that's been made for years, and it just gets more compelling. Internet applications are the way of the future, so even more infrastructure is necessary, which means the time savings of outsourcing cloud infrastructure are even more pronounced.
Freeing Up Resources
Outsourcing to the private cloud can free up a lot of resources for your company. And it's not just the tech infrastructure and those costs. It's also your people. Instead of installing and maintaining a server—and dealing with the headaches of unexpected outages—your people can focus their time, energy, and insights on your company's actual business.
Private cloud can also allow you to consolidate. You might currently rely on multiple providers that can all be rolled into your private cloud. That means fewer vendors to manage and you'll be making the most of your limited resources.
Capacity on Demand
The private cloud gives you capacity on demand. Instead of being limited by your infrastructure, you have room to stretch out. Often it's not so much about having the capacity as it is having speed when you need it. What you have is the capacity to reconfigure and adapt to changing needs.
"It's known as "own the base, rent the spike." You have cost and performance predictability, which means you know what's coming and are prepared to handle it."
Flexibility and Control
With DevOps, you can simply do more. Rolling out apps is a lot easier and doesn't require going through IT. You have both the control to do what you want, but also the flexibility to change as needed. You don't have to be hemmed in by your own infrastructure.
We're currently building a roadmap for where our private cloud offering will go next, and it's based on customer input. We're working to give you as much control as possible. In today's digital world, needs are always changing, so we want to be as flexible as we can to quickly deliver the solutions you need.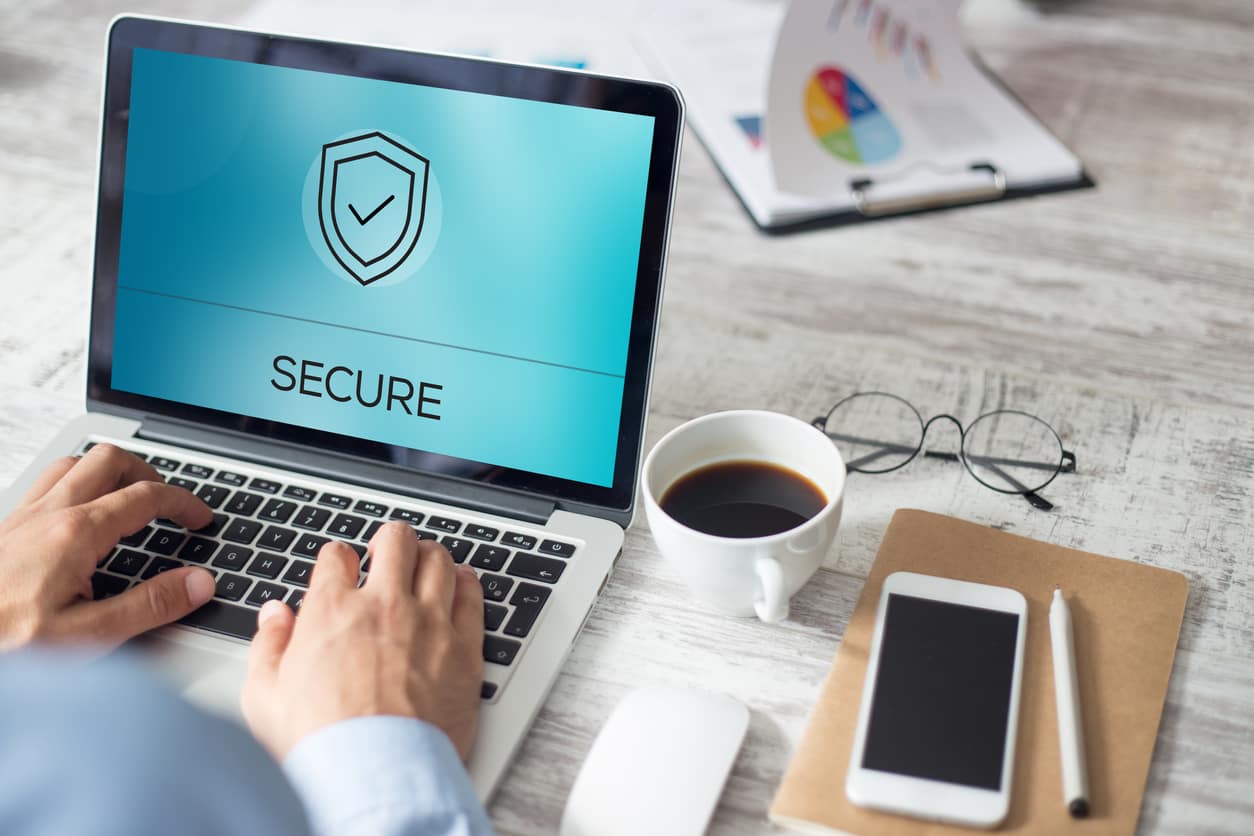 Increased Security
Security is a major concern these days, and rightly so. The public cloud raises all kinds of security concerns, but private cloud is different and has more options. With the private cloud, you can tailor a security plan to address your specific case. You're also not sharing resources and introducing vulnerabilities you have no control over.
Private cloud has the advantage of being a single tenant system. That means we can deploy web app firewalls, two-factor authentication, and other user-specific security practices.
Ease of Use
Migrating to the public cloud is becoming increasingly complex, thanks to the breadth of services and the need to build for failure. But it's a lot easier with the private cloud. There's no need to refactor applications and you can maintain high availability without rebuilding applications.
Public vs Private Cloud by Liquid Web
So what differentiates Liquid Web's private cloud? A few things:
Truly Managed Private Cloud
We manage the entire setup, including all hardware, the VMware virtualization platform, and the operating system on the VMs themselves—just like we would for a dedicated server. Everything is proactively monitored 24 hours a day, seven days a week, 365 days a year.
We also work with solution architects so your entire set up is well planned and designed. We make sure everything will work correctly for your needs—and also fail correctly. It's important that if something does down, we isolate it as much as possible and can get you back up quickly. We also plan for the future, anticipating what you'll need down the road so you're ready for what's next.
Liquid Web also has two VMware options, a fully managed solution that includes hosts and guests, and an option where we fully manage hosts but you can manage guests. Most people go with the fully managed option, but if you have specific needs to manage guests that option can be helpful.
Efficient and Secure
We work hard to make our setup efficient and secure. That includes bundled solutions so you're not having to make all the decisions about every technical detail. But if you want to get into the technical details, that's okay too.
Each single-tenant private cloud solution includes a firewall, load balancer (if needed for workloads), and a dedicated vCenter for your VMs to isolate infrastructure and safeguard data. All of that means we reduce failures. We're past the days of widespread outages, but when outages do happen they can be complex and hard to fix. We're able to design your setup individually, which enables us to pinpoint problems easier.
Performance Built to Last
Our server nodes are built on premium dedicated managed servers, along with ultra-fast, all-flash NetApp SAN storage so the VMs can deliver maximum speed, scalability, and reliability.
Here's what our setup looks like: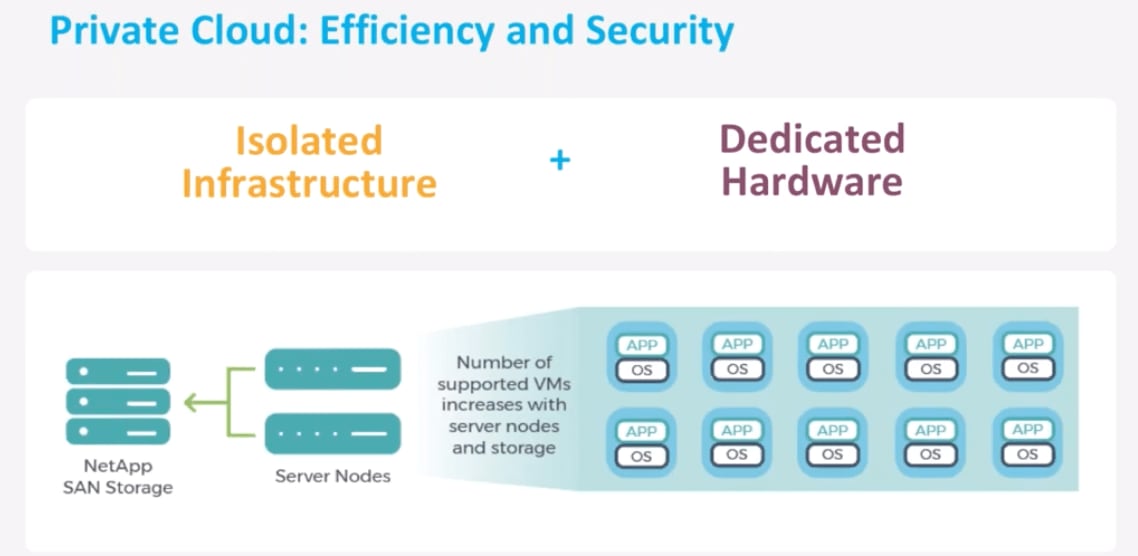 We build with reliability in mind, including extra capacity, so if one server node goes down, those VMs can run on another node.
One of the big advantages to the private cloud is known predictable performance. We're always monitoring and managing to make sure you're getting that performance, both at the application layer and the VM infrastructure layer.
VMware Private Cloud Case Study
Let's look at a specific case study to see how VMware private cloud can work for a real business. We've abstracted one of our clients so we can share the specific details.
This client is a mid-sized digital agency. They develop and host a number of applications for small and medium organizations—both public brand sites and internal business applications. They also create custom eCommerce applications, related catalogs, and inventory systems.
This client is always innovating to offer their customers the latest and greatest. So they're tinkering with mobile apps, business communication apps, inventory management systems, etc.
Challenges
This client faces two main challenges:
The sites and applications they create need to size up and down according to seasonality and business requirements.
They manage multiple providers and that can cause critical business delays and inconsistent performance.
Technical Solution
Here are the technical details of the solution we created for them:
Dedicated firewall.
Dedicated load balancer.
Two VMware hypervisor nodes (third to be added in three to four months).
Load balanced Linux Web VMs for highest traffic site with a dedicated MySQL VM.
Assorted Windows and Linux VMs for different client types.
Results
Here's what Liquid Web Private Cloud did for this client:
Reduced aggregate client spend by over 30%.
Provided the ability to resize VMs based on the underlying resource pool to account for seasonality, client growth, and churn of individual clients.
Provided high availability without the need for a major re-architecture of sites and applications.
They went from five providers down to one.
Why Private Cloud vs Public Cloud
In summary, here are four main benefits to a private cloud vs public cloud:
Works for organizations of all sizes.
Private cloud offers isolation, performance, and high availability without refactoring applications.
In many cases, private cloud can be a better experience for internal and external users.
It costs less than most DIY options.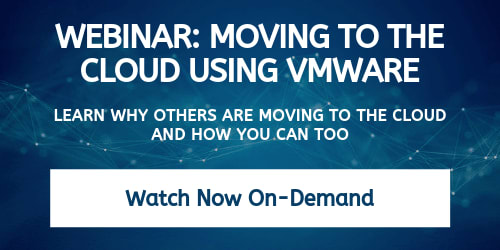 About the Author

Follow on Linkedin More Content by Todd Terwillegar